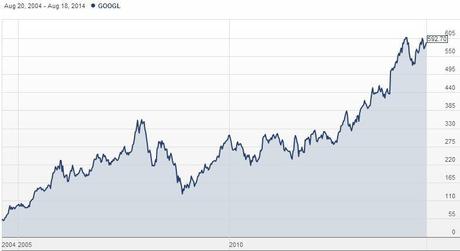 It's been 10 years since the initial public offering of the dominant search company, and how it's grown up.
Google's (GOOG) rise to power has been so swift and breathtaking, it's shaken up the world order of the advertising industry, disrupted the technology industry and turned into a massive money maker for investors.
While the advertising company first rose to the fore due to its super-secret search algorithm, Google has used its power to collect vast amounts of data about its users and apply it to new areas. Google has pushed into new industries including mobile, where it is dominant, and also software systems.
For investors, the Internet advertising firm's success has been astounding. Google is the 11th best performing stock in the current Standard & Poor's 500 since its Aug. 19, 2004, IPO, gaining 30.15% a year on average, says Howard Silverblatt, strategist at S&P Dow Jones Indices. The stock has rocketed 1,293% since its IPO, says Bespoke Investment Group.
Google's IPO broke the mold from the very start. Advised by academics, Google sold shares using the Dutch Auction model, where all potential buyers used an online system to indicate how many shares they wanted and at what price. The IPO establishment was outraged since they did not get the preferential treatment and power to dole out shares to their own clients.
Interestingly, Google has outlasted several of these banks that normally would have sold shares. Bear Stearns and Lehman Brothers were two of the top investment banks in 2004, Bespoke says, and both are now gone.
And it's not just the investment banking industry that's been rocketed since Google. There are 145 stocks that were in the S&P 500 at the time of the Google IPO that are no longer publicly traded, Bespoke says.
The founders also found themselves in a bit of trouble at the time of the IPO when they appeared in Playboy magazine with an interview prior to the offering. It was quickly resolved with a press release and update to the registration documents.
Recently, the company orchestrated a complex stock split, which created another class of stock. Some declared the move, which concentrates more voting power in the hands of founders Larry Page and Sergey Brin, as anti-investor. But the company is so profitable, investors can't resist holding it.
Many people may consider Google to be a technology company, but its secret to success is that it is an advertising company. Google uses its technology products as a way to lure more users from which the company can collect data and sell information about them to the highest bidder. More than 60% of the value of Google's stock price comes from advertising, delivered both on desktop computers and on mobile devices, says stock information firm Trefis.
These data and Google's dominant position on the Web with its services gives it so much power, it's very difficult to compete against. Media magnate Rupert Murdock this weekend again groused at how powerful Google has become with a post on Twitter.
Google's business model might be difficult for consumers to understand. But it allows the company to offer products at no cost that a traditional software company would charge money for. And those data, it seems, are worth more than the price of the software and services being given away for free.