Google recently invented the Trekker, a backpack with the Street View technology, planning to go off the roads and upgrade Google Maps – Street View with more areas to explore. Google's product manager Ryan Falor took this new Trekker for a spin in the Grand Canyon, on its' first official outing.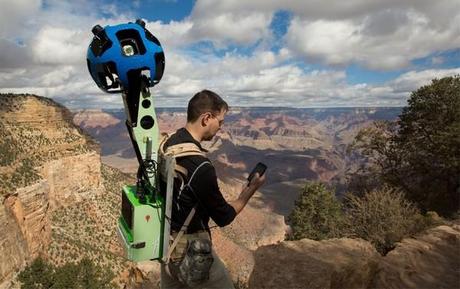 By taking this huge backpack with the football-shaped camera system into the wild, Google plans to "collect imagery from a place no car, trike or snowmobile has ever been before." And update Google Maps with more beautiful places from around the world. This trip to the Grand Canyon is only their first step towards a better Street View system.
"The narrow ridges and steep, exposed trails of the Grand Canyon provide the perfect terrain for our newest camera system. The Trekker—which its operator controls via an Android phone and automatically gathers photos as he walks—enables the collection of high-quality imagery from places that are only accessible on foot." Ryan Falor stated on the blog post.
Soon they will be taking Trekker to more amazing places to allow people to explore those areas easily through computers, just like how they went underwater.
[Source: Google Blog]
(All the images, trademarks, logo's shown on this post are the property of their respective owners)
Roshan Jerad Perera