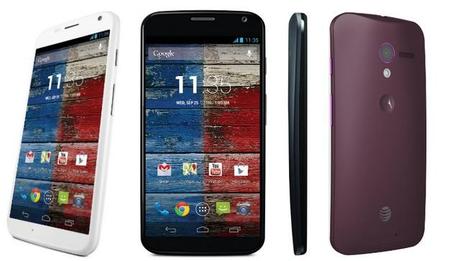 Under the command of Google, Motorola is now back in the smartphone game with "the first smartphone assembled in the USA," Moto X. The phone looks sleek and beautiful, but it's no game-changer.
To my surprise, they have actually named it Moto X, I thought that was suppose to be a codename they used to refer to the secret project at Google. Now, I'm not sure what to call off-road dirt bike racing. Anyway, as it turns out those leaked press-shots and specs were dead on.
In specs, Moto X has some pretty decent stuff that we expect in any flagship phone in the market today. The processor is a dual-core Qualcomm Snapdragon S4 Pro chip clocked at 1.7GHz, with support from Adreno 320 GPUs and 2GB of RAM. 10MP on the back is capable of shooting 1080p video at 30fps. But that HD video shooting will be pointless because the 4.7-inch AMOLED (RGB) display on Moto X can only view HD 720p. Moto X gets powered by Android 4.2.2 and will take some time for it to get Android 4.3, since Google is still testing its' features and compatibility. New Motorola phone will head out in 16GB and 32GB storage options, and without SDcard slots.
Only thing that makes Moto X different from other smartphones is the Motorola's MotoMaker web app, which gives users the ability to customize their phone with a back plate of their choice with about 16 colors to choose from, along with volume and sleep buttons. And also you'll get a chance to engrave your name or a message to the backplate of the device. All that for free, before you purchase the phone.
According to TechCrunch, the Moto X is said to feel "surprisingly small for a device with a 4.7-inch screen". They say that the voice commands are working pretty well too. Folks at Android Central, who went hands-on with the device has the same things to say about the phone. They also mentions that the back of the phone isn't removable. So you can't do any batteries swapping or change the backplate after initial customization.
There are several new features in Moto X that makes it unique in software features like the new "Quick Capture" camera and "Touchless Control". But, overall this smartphone doesn't appear any better than Samsung's Galaxy S4 or even the Nexus 4.
Moto X is set to hit AT&T and Verizon by the end of this month for $199(16GB) and $249 (32GB), with a two-year contract.
Check out Android Central's hands-on video for a closer look at the device.


(All the images, trademarks, logo's shown on this post are the property of their respective owners)
Roshan Jerad Perera