Google Keep is a very simple note taking and list making app from Google which is part of the cloud based services Google Drive. Google just announced Google Keep and for now its launching for web and for Android.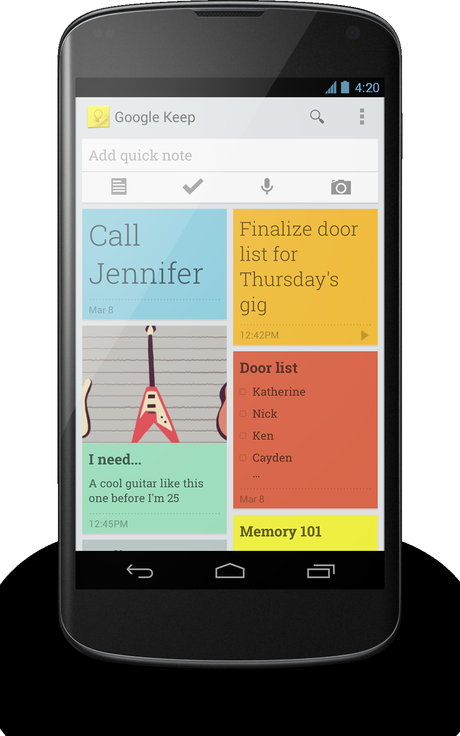 Google Keep is a very simple web service on Google Drive and a App for Android which has been started with an hope to stop the traditional use of notepads which we use to take quick notes as, and when we need.
You would ask why we need to stop using the notepad/ sticky notes / scribble notes and start using this? The answer is simple, we keep taking quick notes the whole day, and its not necessary that we take these notes in one single notepad, we at times write something on a piece of paper or sticky-note or put a small reminder on desk or the fridge and even some times on some page of a newspaper or magazine. Chances of losing all these notes is very high, if not losing then we waste quite a lot of time trying to look out for it when we need it.
Google keep would help you quickly take notes, jot ideas when you think of them and keeps everything together. This way whenever you need any thing to refer back all the important stuff is stored and easily accessible there. As its a service by Google Drive, it magically syncs to all your devices as long as you are logged in from the same account.
The tool also provides a transcription tool, which will turn your voice memos into text. Now that sounds cool right?
People have been using such services from long time, Google Keep is not a one of a kind service. Other services like Evernote, Microsoft One Note, Simple Note etc already do all the things Google Keep does and also a lot more. All these services have been actively developing their notetaking service over years of experience and feedback from their loyal users. What Google Keep might provide extra is the deep integration of Google Keep with their other services which we use everyday. Google already integrates tasks lists into Gmail, Google + has integrationg of all the Google services. Chances of Google+'s integration with the Google Keep are very much possible. As of now there is no social aspect to Google Keep to share anything but we can expect the to-do list, events,photos to be integrated to Google+ sooner or later.
Google Keep is available on Google Play for devices running Android 4.0 and above.
For web users, Google Keep on web is available at Google Drive to access, edit and create new notes. And Google announced, in the coming weeks all the Google Keep edits can be done directly from Google Drive.
Share this: