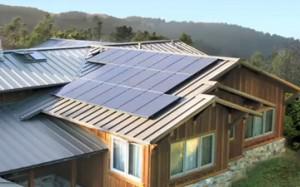 Last week, Google
announced
a $75 million "initial investment" in San Francisco-based Clean Power Financethat will help as many as 3,000 homeowners secure financing for solar installations.
Google
stated the move "makes business sense" and will help accelerate residential solar installations. It also will bring its total investment in the development and deployment of clean energy to over $850 million.Even with government subsidies and tax credits, the cost of a residential solar array is often too high for most homeowners. For instance, if Google's investment reaches 3,000 residences, that equals a price of $25,000 per home. Moreover, solar installers can't always provide customers with financing options due to lack of capital, and the highly fragmented solar market makes it difficult for outside lenders to enter the marketplace.Fortunately, Clean Power Finance has developed an open platform that addresses these issues. It works by connecting solar installers (who sign up to gain access to customers) with investors like Google, thus giving customers better access to financing.
Essentially, Google purchases solar arrays for homeowners (while retaining ownership), the installer builds it on the homeowner's roof, and homeowners agree to buy back power generated from the solar panels at a fixed monthly rate (which would often be lower than their former grid rate). Maintenance, monitoring, billing and operations are taken care of by Clean Power Finance and its network of installers.
According to the Wall Street Journal, residential solar installations can be profitable in states like California and New Jersey, which have incentives for solar power generation as well as higher electricity rates. And as one article points out, this fits in nicely with Google's 6th core principle: "You can make money without doing evil."
Image