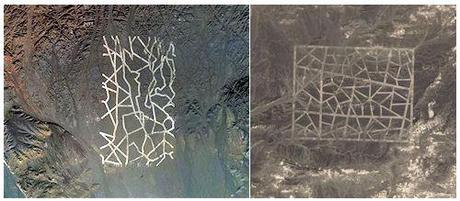 Vast, unidentified, huge structures have been spotted by satellites in the barren Gobi desert, raising questions about what China might be building in a region it uses for its military, space and nuclear programmes. In two images reflective rectangles up to a mile long can be seen, a tangle of bright white intersecting lines that are clearly visible from space.
Other pictures show enormous concentric circles radiating on the ground, with three jets parked at their center. All of the
structures
are on the borders of Gansu province and Xinjiang, some less than 100 miles from Jiuquan, the headquarters of China's space
programme and the location of its launch pads.
The Presurfer