Goodreads.com is holding their 3rd Annual Goodreads Choice Awards! The Opening Round has already begun!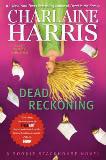 Dead Reckoning by Charlaine Harris is nominated in the Favorite Book of 2011 and Best Paranormal Fantasy categories!
Here is how the voting process works;
You have three chances to vote during the month of November:

Opening Round: October 31 – November 13, 2011
Voting open to 15 official nominees, and write-in votes can be placed for any eligible book (the fine print).

Semifinals: November 14 – November 20, 2011
The top 5 write-in votes in each category become official nominees. You can vote for one of the now 20 nominees in each category. Additional write-ins no longer accepted.

Finals: November 21 – November 30, 2011
The field narrows to the top 10 books in each category, and you have one last chance to vote.

Winners will be announced in December. Thanks for voting!
If you want to vote for Dead Reckoning and/or any other books you have read – cast your votes here!  Please note: you must be a member of Goodreads to cast your vote!