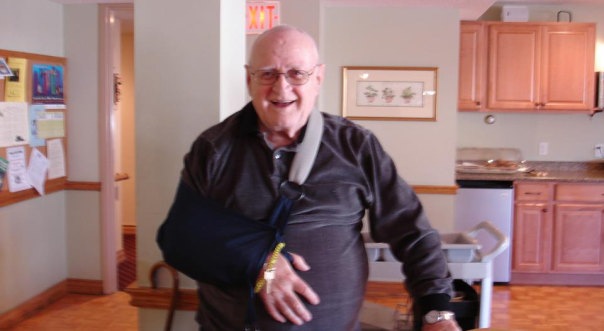 Tomorrow afternoon my family will say goodbye to the man who we all called Gramp.
Since I heard of his passing on Wednesday morning I have thought of him a lot. I've played old memories through my mind over and over again. I've thought of him as he was when I was a child and a teenager and an adult.
I've also thought of the words that I would share to offer my remembrance of him.
When I was a little boy we would visit my grandparent's house in Port Hope on weekends. In the basement my Gramp would sit in his recliner and watch the fire in one corner of the room and the TV in the other. In that basement I got to know my granddad and learned things from him that I didn't realize I was learning at the time, and admittedly some that I didn't realize until this week.
I always knew and have written in past about learning baseball in that basement. I learned to watch the play, listen to the announcers, anticipate what would happen next, appreciate the beauty of what baseball looks like when it's played the right way. But what I didn't know was that in the silence (that was enforced) during game play I was learning to hold my questions, wait to see if the answers presented themselves and ask them when the time was right and only if they were necessary. I learned to sit in the darkness and listen instead of speak.
It was a good lesson to learn.
My Gramp lived a full, long life. He worked for 30 years at General Motors. He was retired for 30 years after that. He raised 7 children, has 15 grandchildren, 18 great-grandchildren (to date) and was married to my Gran for 54 years before she passed away and loved her and missed her for all of the days, months and years since then. He turned 85 just 2 weeks ago and much of my family made the trip to Cobourg to visit him. I regret not going. I felt bad that day. I feel worse now.
To be honest, I hadn't seen him in quite a while. It was hard and it got harder. When I was 18 I moved in with Gran and Gramp and stayed there through grade 12 and OAC until I went away to college for my 1st year. Gran passed away on my last day in Toronto and I came home to live with Gramp that summer. We both missed her and it wasn't particularly easy being there. I'm sure it was harder for him than I could ever imagine.
Note: There's a story I tell about Gran coming down the stairs to the basement one day to invite my friend Nick to stay for dinner. I tell it because it was the only time I ever remember her coming down to the basement and it felt special. But now when I think about it, the special thing is that she never had to come down. If she ever needed anything, Gramp just brought it up to her. Always. I never heard him complain about it. He often asked if she needed anything before he came up. And while at the time I just took for granted that that's just the way things were, I see now that that's how much he loved her and showed her every day. 
Even in that spring and summer, after we lost Gran, he was still Gramp. He watched baseball and hockey. Invited family and my friends into his home to sit and visit and watch with him. He kept track of home runs by the Blue Jays and goals by the Maple Leafs on lined paper attached to his clipboard as he always had. He woke up early every morning to read the newspaper. And he had no qualms about waking me up with the garage door when I was sleeping in far too late.
But when I think of him now I think of him as he was when I was young. I think of him drinking a gallon of coffee a day. I think of him with a chew in his mouth. I think about him in his recliner, watching 1 baseball game on TV and listening to a 2nd game on the radio. I think of the old pipes hanging on the wall beside his chair. And to this day, when I smell pipe smoke I think of him. I always will.
I remember my dad's stories of Gramp as a younger man. Playing golf and cards and pool. Working hard, enjoying road trips and vacations with his children and with Gran. I like those stories. They fill me in on what he was like before he was my Gramp. And they make him sound like he was a pretty fun guy. 
On Wednesday morning when I spoke on the phone with my dad and he told me that Gramp was gone I swore, I asked questions, I hurt and I told him that I loved him. And when we hung up and I put my phone down I cried. 
I have missed my Gramp for a long time. And now I will continue to miss him just like everyone else who was lucky enough to know him and know what he meant in their lives. 
Tomorrow we will say our goodbyes at the visitation and funeral. But we will never say goodbye to the memories that each of us carry with us. He will live forever in our hearts and forever more in heaven with my Gran. 
I loved that old man. I hope he knew that. 
I know they have baseball in heaven because I've seen Field of Dreams. I just hope that they have Yahtzee too, because Gran has been waiting.