A year ago I sat on a bale of straw backstage with Trinity Bradshaw after she competed in the Emerging Artist Showcase… not long after that she was announced as a finalist, and the next day she won the whole damn thing.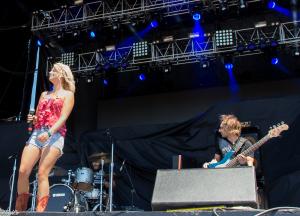 Fast forward 12 months and Trinity has a great single, performed on
Canada AM
, played 17 shows in 10 days at the venerable Calgary Stampede, opened for Shania Twain in PEI, and worked her ass off every step of the way.
On Sunday, Trinity added the Boots & Hearts main stage to her list of recent accomplishments.
With a big smile on her face, a boat load of energy, and an opportunity that she'd been waiting for, Trinity took her turn on the big stage and didn't disappoint. There were shout outs to Summerside from the crowd, there were early day drinkers, there were singers, and there were cheers… well deserved.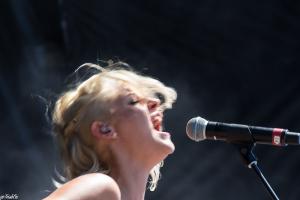 We love Trinity, she's great on stage, but for the last year she's also been great with us. We've chatted, she's written with us here, and she is generally just a delightful person. So when we got to see her later in the afternoon and exchange big hugs and smiles and talk about how much we loved
Eric Church's set on Saturday
, and how cool it was that she finally got to meet
Dallas Smith
in person, it felt like the cherry on top.
Trinity Bradshaw showed the Sunday Boots & Hearts crowd that she deserves to be there. We're proud of her – and we know that we're all going to be seeing a lot more of her soon and for a long time.
Check out Trinity's set list from Sunday's show, more pics and stay tuned for more coming soon.
Trinity Bradshaw Boots & Hearts Set List
♦ Jolene
♦ Break It Down
♦ Big Town
♦ Goodbye Earl
♦ Lay A Litle Lovin' On You
♦ Yours For A While
♦ Love Is In The Middle Of Us
♦ Never Drinkin' Again
♦ I Want What I Want
♦ Good Times
Work Hard. Play Harder. Be Awesome.