Emerging country star Sacha hit the Boots & Hearts 2018 Front Porch Stage on a sunny Friday afternoon, and she hit it hard.
The Warkworth, ON singer, came to the stage with a full band and packed her short set with energy, enthusiasm, and country music. She was confident and brought everything she had and made a strong case for us to see her again at Boots, and on a lot of other stages in the near future.
Sacha's set included her new single, Good Times Going, giving everyone a look at where she's headed in her burgeoning career.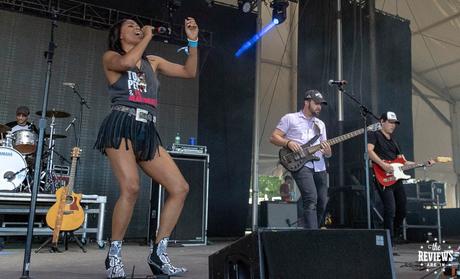 2016's The Next Country Music Star winner continues to work hard, and that hard work is paying off with performances like the ones at Boots & Hearts 2018. Her passion and commitment to her craft, and to having a good time on stage have brought her this far, and are only going to take her further.
With a set that included her originals and covers like the Brothers Osborne's Shoot Me Straight, Sacha and the band were ready to rip with the country music crowd in the afternoon sun. It was short, but it was strong. And we're guessing that next time it will be just as strong, on a bigger stage.
Photos of Sacha at Boots & Hearts 2018