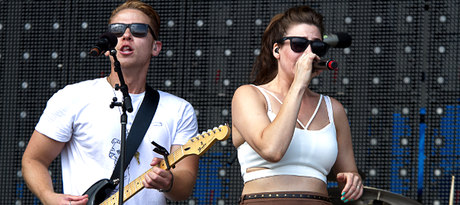 On the first full day of Boots & Hearts 2016, Autumn Hill hit the main stage and continued to show us why we see them as one of country's brightest rising stars in Canada, and truthfully, one of our favourites.
The opportunity to see Tareya and Mike backed by a full band was also a treat, something we haven't seen in a while... and we loved it. And while it's almost an embarrassment of riches to have a lead guitar player in the band when Mike has his own six string strapped on, nobody in the Friday sunshine was complaining at all.
Note: I really could watch Mike play guitar all day. Pair him with Lindsay Ell as my two favourite guitar playing singers of the weekend at BH5!
The smiles and energy from the stage were noticeable, and they worked to get the impressive afternoon crowd into the action early and often. It was great to see pockets of dancing throughout the fans in the field, and to see many, many voices singing back at Autumn Hill as they rolled through their set.
That set, btw, included some of our favourite songs from Favourite Mistake and Anchor... Anything At All, Return Policy, If She Wants This Town, Burn, Good Night For Going Nowhere, Mixtape, Memphis (w/ an I Love Rock & Roll interlude), and Blame were all hits with the crowd. And when the band added in Livin' On A Prayer and Somebody Like You, the singing continued and everyone was all in.
Note: The bluegrass breakdown that Autumn Hill put together at the end of Livin' On A Prayer was top notch and one of the most unexpectedly fun things I've seen on stage in some time. High five.
Autumn Hill has released 2 albums and 8 singles. The first 7 singles all found the top 25, and Blame got as high as number 4 on the Canadian country chart... we're 100% sure there are more hits coming, and we're looking forward to seeing just how high Good Night For Going Nowhere can climb as the current single.
If you don't know these albums yet, this is our recommendation for you to go and listen now. Today. Find them and just listen to the songs. Sing along to the ones you know, replay the ones you don't, and enjoy.
And we'll see you in the crowd the next time we're there to watch Autumn Hill put on a show!