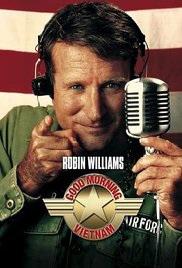 Director: Barry Levinson
Writer: Mitch Markowitz (Screenplay)
Starring: Robin Williams, Forest Whitaker, Bruno Kirby, Robert Wuhl, Noble Willingham, J.T. Walsh, Chintara Sukapatana, Tung Thanh Tran
Plot: An unorthodox and irreverent DJ begins to shake up things when he is assigned to the US Armed Services Radio station in Vietnam.
There may be spoilers the rest of the review
Verdict: Brilliant Film
Story: Good Morning, Vietnam starts when radio DJ Adrian Cronauer (Williams) gets reassigned to Vietnam shown around by Edward Garlick (Whitaker). Gen Taylor (Willingham) has bought Adrian in but it isn't long until Lt. Steven Hauk (Kirby) and Sgt. Major Dickerson (Walsh) don't enjoy the show Adrian puts on.
Adrian tries to keep everything within a light hearted manor which includes trying to get to know a local girl Trinh (Sukapatana), Adrian continues to push the limits of what he says on air but when he witnesses the war first hand he learns that not everything is a laughing matter.
Good Morning, Vietnam is one of the few films out there that could handle comedy and serious matters with ease, the story balances these very well as we see Williams let loose on the comedy side but become silent when he learns the truth about the conflict. The story also tackles the ideas of cover ups trying to protect both sides but also how this will stop the war from happening. This is very powerful because having next to no knowledge of the Vietnam war this doesn't seem to make sense with why the Americans were even there. It would be fair to say certain parts of this film wouldn't happen now due to political correction though.
Actor Review
Robin Williams: Adrian Cronauer is a radio DJ who likes to bring comedy to his show making everyone feel lighter through the policing conflicting in Vietnam. He falls for a local girl which tests his position in the military as he clashes with his superiors. Robin shows just how much of a talent he really was with this performance letting him have his comedy fun but also tackle the serious side of a story.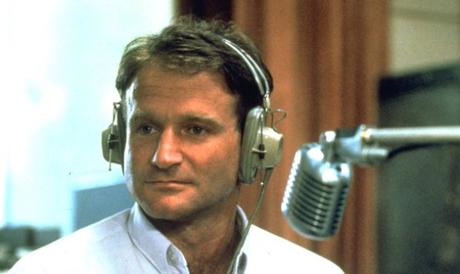 Forest Whitaker: Edward Garlick is one of the privates that shows Adrian around Vietnam. He becomes his best friend making sure he stays out of trouble while standing by his side whenever he does find himself in trouble. Forest shines in this supporting role showing how he can work with fellow actors with ease.
Bruno Kirby: Lt Steven Hawk sees himself as a comedian and finds himself hating everything Adrian puts on during his show while demanding respect from any soldier under his rank. Bruno does a good job in this supporting role just showing us how different the two characters need to be.
Chintara Sukapatana: Trinh is the local girl that Adrian falls for, she comes from a traditional family making any relationship difficult as Adrian has to face the clash of cultures. Chintara is good in this role as we can see her inexperience in this size of production.
Support Cast: Good Morning, Vietnam has a supporting cast of military characters that either support or go against Adrian as he tries to tell the truth over the air.
Director Review: Barry Levinson – Barry gives us a film that manages to tackle both the comedy and the serious side of what was happening in Vietnam.
Biographical: Good Morning, Vietnam is loosely based on the real man involved at the time but does show how one man wants to stand up and speak the truth during the conflict.
Comedy: Good Morning, Vietnam is filled with the fast paced comedy that only Williams could have delivered throughout the film.
War: Good Morning, Vietnam shows us the conflict going on in Vietnam and how both sides were dealing with the conflict.
Settings: Good Morning, Vietnam puts us in the middle of Vietnam from the start showing how the tension started building between the two.
Suggestion: Good Morning, Vietnam is one that should be watch at least once just to see how brilliant Williams was. (Watch)
Best Part: Williams is brilliant in this role.
Worst Part: If it is based on a real guy it would have be nice to know what happened with his career after.
Believability: Depends how you think it really went.
Chances of Tears: No
Chances of Sequel: No
Post Credits Scene: No
Oscar Chances: Nominated for One Oscar
Budget: $13 Million
Runtime: 2 Hours 1 Minute
Tagline: In 1965, military D.J. Adrian Cronauer was sent to Vietnam to build morale. His strategy: keep 'em laughing. His problem: staying out of trouble.
Overall: One of the best of the Williams career.
Rating