JUNO-award winning folk-pop trio, are back with a new 3-song EP titled, B-Sides, and it's a lovely taste of what we've always loved from the band.
It's a short listen, coming in at just 11 minutes, but us wishing there was more doesn't take away from the songs we get here.
Blue Canoe, Life On The Road, and Dawson deserve to be heard as part of the band's catalogue. The sounds are sweet, the combination of their three voices in gorgeous harmonies is what we are used to and love from them, and while they were all recorded in different studios, at different times, with different teams, they all capture the Good Lovelies sound.
This release is a supplemental EP of sorts. The band says, "In commencing the writing process for a new record, we dug up some unreleased gems from our past and decided to give them new life. The trio of songs were originally recorded during the Burn the Plan / Shapeshifters era and have been updated with new gorgeous sounds over the last few months."
It's nice to know that these songs survived from the previous eras and we're able to hear them now. And, it's great to know that Good Lovelies have started to process of working on more new music that we'll hear in the future.
After my first few passes through the EP, I've found myself very fond of Dawson. It sounds like a love letter to the Yukon city (one of Sue's favourite places we're told) and makes me want to go and be one of the first-timers kissing the fresh air.
Hit play and listen to Dawson now.
Good Lovelies - Dawson
We're also told that Blue Canoe is a song about Caroline's brother-in-law, who did disaster relief work in Haiti after the devastating 2010 earthquake. And, that Life On The Road is a song about craving both the comforts of home and the being on the road - which feels especially timely as touring musicians like Good Lovelies wait for their opportunity to get back out and play across Canada and beyond.
Here's hoping those days are on the way.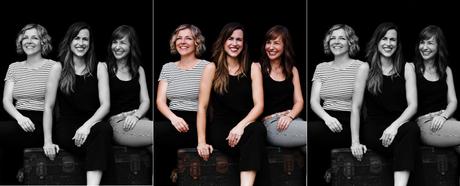 In an email that accompanied the release, Good Lovelies said this about the EP, "With three songwriters, it's easy to find ourselves with an excess of music come album time. The goal of an album is to put forward the best package of songs from a larger collection of writing, which inevitably means that some favourites find their way to the cutting room floor. B-Sides is made up of three of our favourites, recorded at three different studios, at three different times, with three different teams. We have now picked them up from where they were left, and polished them off so that we can at last share them with you."
If you've ever been into a Good Lovelies album in the past (including their wonderful Christmas music), you're going to want to listen to B-Sides. And while you do, you can look forward to that new music Kerri, Sue, and Caroline have been writing and getting ready for their next album.
Hit play on the B-Sides stream now. Enjoy.
Good Lovelies, B-Sides Tracklist