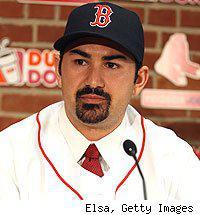 The expected megadeal that the Red Sox and Adrian Gonzalez have reached will be announced today.
It's a seven-year deal worth $154 million. It has been delayed until now due to the fact the Sox don't want the salary counted towards MLB's competitive balance tax.
This deal becomes the second largest deal ever done by the Red Sox. Manny Ramirez' eight-year, $160 million deal in 2001 still remains number one.
Also, my friend Pete Nash at Hauls of Shame has an interesting article questioning whether an auction house that has a letter up for auction right now might be selling one that was stolen from the Hall of Fame.
Today is also a monumental day in history, as April 15th is the day of Abraham Lincoln's assassination (1865), the Titanic sank (1912), Jackie Robinson made his MLB debut (1947), 96 Liverpool fans died at the tragic crush at Hillsborough Stadium (1989), and of course, it's Tax Day. Except this year it's been moved to Monday.