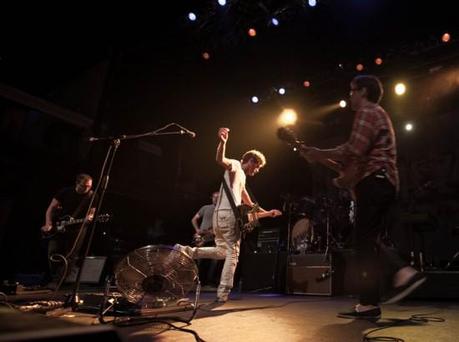 England's Gomez (@gomeztheband) played to a packed crowd at Terminal 5 last Thursday. Before the show began, though, the band's frontman Ian Ball greeted the crowd and explained that a few changes had been made to the lineup.
We were unfortunately told that the original opening band, Good Old War, had a last minute catastrophe when a "brick fell from the sky, breaking the guitarist's hands. This is true."  To remedy the situation, Ball had called his friend Joseph Arthur a few hours before the show to play an acoustic set. Backed by percussion and vocals from Russell Simins of the John Spencer Blues Explosion, Arthur played through several of his folk favorites including "I Donated Myself To The Mexican Army".
Finally, Gomez took the stage, and the audience immediately perked up from the down-tempo folk of the impromptu opener.  Highlights from the night included the retro-rock number, "Silence" that got the room dancing during Ben Ottewell's blistering solo over "Girlshapedlovedrug". The climax came at the end of the show with crowd-favorite "Detroit Swing 66". The rollicking vocal harmonies of "I'm trying to keep from getting' uptight" were infectious and got the whole room in a tizzy. The band wrapped up the night with an encore performance of "Airstream Driver", which, despite being written by a band from across the pond, perfectly conjures up feelings of the American highway.
Switching instruments and trading vocal duties the entire night, each member displayed a huge amount of versatility and deep talent. Though they had to cancel the remainder of the North American tour due to Ben Ottewell needing to rest his voice (doctor's orders), Gomez still brought the heat last week.

View Photo Album