This week in the studio I'm working on paintings of the full moon. In both these oil paintings, the moon and a sky glowing bright with moonlight make the backdrop for the Tree of Life. I keep returning to the Tree of Life in my paintings because it symbolizes the interconnectedness of all things. The Tree of Life together with the glowing full moon makes a powerful image.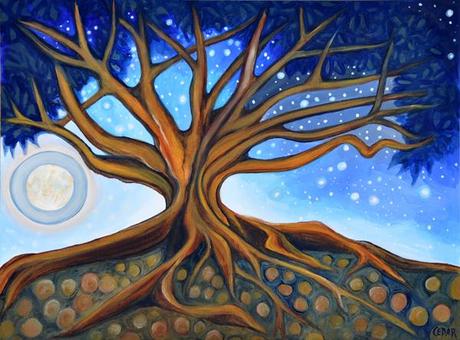 Golden Haloed Moon. 18″ x 24″, Oil on Canvas. © Cedar Lee 2013
This one is called "Golden Haloed Moon" because of my attempt to capture that brilliant halo effect. It's hard to tell from the photo, but in person the moon is indeed glowing golden. Here's a detail shot of the moon so you can fully see the colors: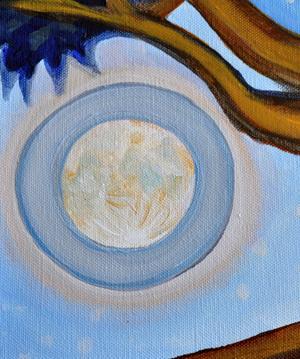 Detail from Golden Haloed Moon
And here is "Milk Moon Rising." Like my earlier painting, "Seed Moon Rising," it is titled for one of the names of the full moon. The Milk Moon, also sometimes called the Full Flower Moon, occurs in mid-spring–this year it'll be on May 25th. I thought it an apt title because of the milky-white quality of the moonlight washing over the scene.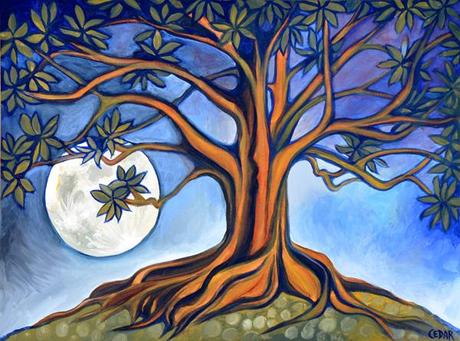 Milk Moon Rising. 18″ x 24″, Oil on Canvas. © Cedar Lee 2013
I particularly love the details that show the craters and rocky surface of our moon: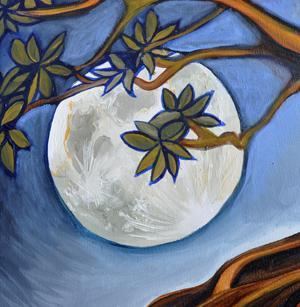 Detail from Milk Moon Rising
Both paintings available for purchase. (Or they will be, as soon as they finish drying.)