Who won big at this year's 71st Golden Globe Awards, honoring the best film and TV in 2013? Who cares. Let's talk about what really important... what all of the celebrities were wearing!  Here are my picks for the Best, the Worst and everything in between:
OSC BEST DRESSED NOMINEES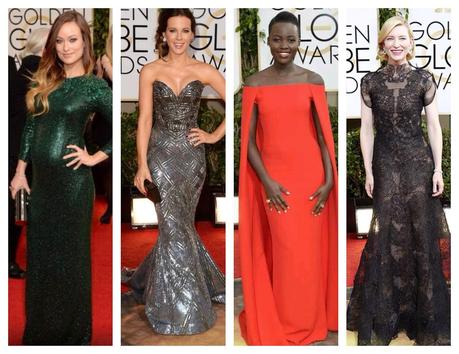 From left to right:
Olivia Wilde
in Gucci
Kate Beckinsale
in Zuhair Murad
Lupita Nyong'o
in Ralph Lauren
Cate Blanchett
in Armani Privé
OSC WORST DRESSED NOMINEES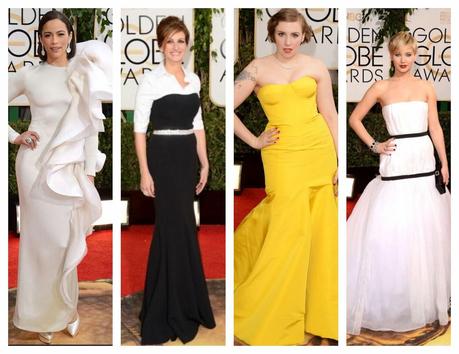 From left to right:
Paula Patton
in Stephane Rolland Couture
Julia Roberts
in Dolce and Gabbana
Lena Dunham
in Zac Posen
Jennifer Lawrence
in Dior
Twitter reacted quickly to Lawrence's gown with photo parodies popping up throughout the show. From comparisons to Ariel in Little Mermaid to people recreating her look with bed sheets and tape, this Dior gown got a big reaction - although not the one Lawrence was probably looking for.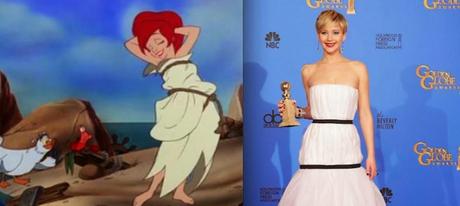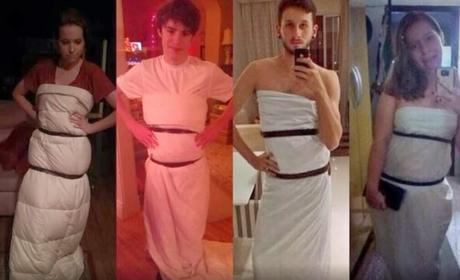 OSC HIPPEST CHICK AWARD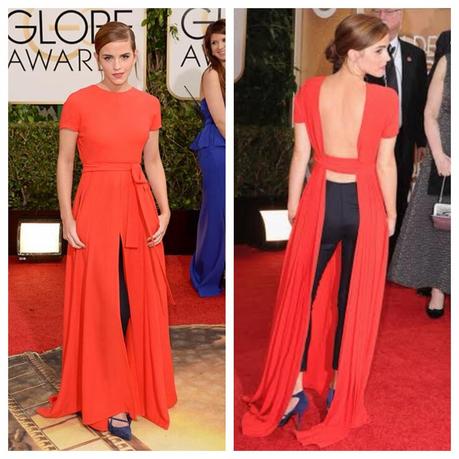 Emma Watson turned up in a dress/pant hybrid ensemble, courtesy of French fashion house Christian Dior.
This is EXACTLY the sort of outfit one should wear when you are young. It's hip and cool, edgy and unusual, eye-catching and had everyone talking (and photos clicking). Vanity Fair said of the look, "Is it the reverse mullet of dresses? Elegant party in the front and sassy business wear in the back? She looks amazing and, best of all, comfortable. Every lady not in pants is surely jealous." Irritated is more like it. That they didn't pick this look for themselves! It's amazing.
OSC SNAFU OF THE NIGHT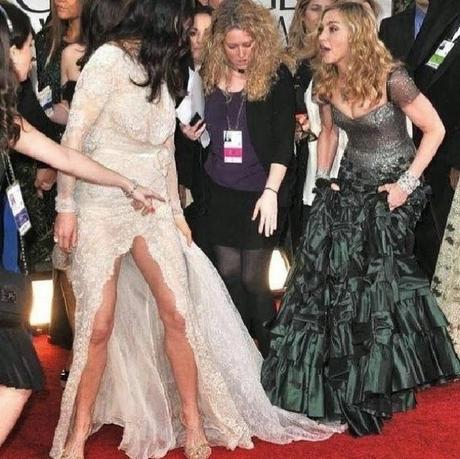 Photo Courtesy of: KooKoo1984 (Hard Candy Music) via yfrog
Jessica Biel
quickly spun around to see who stepped on the train of her dress, but ever so quickly laughed the situation off upon realizing it was the one and only
Madonna
. Things could have gone terribly wrong at the live event, since Biel's dress featured a high front slit which exposed her slender, toned legs. However Madonna was quick to apologize and Biel gave Madonna's hand a quick squeeze as if to say "It's ok!" before gracefully continuing down the red carpet.
Leave a comment below and tell me if you agree or disagree with my choices. Who wore your favorite look of the night?  And who do you think had the biggest fashion blunder?