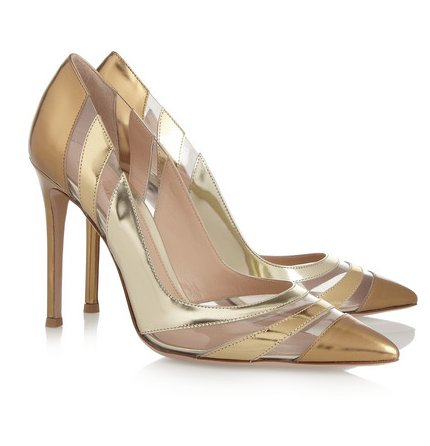 During week 1 of the Olympics at Sochi I have been keeping a close watch on my fellow Canadians and I came to the conclusion that those red and white uniforms are in dire need of some accessorizing.  
And since achomplishing Olympic gold is kinda a big deal, not just any accessory will do. Read on for my humble suggestion...hint, these
beauties from net-a-porter are precisely what I'm talkin about. 
When the ancient Olympics first began an olive wreath was the prize for the winners. More specifically, winners received an olive branch from the wild-olive tree that grew at Olympia, intertwined to form a circle or a horse-shoe. When the modern Olympic Games began in 1896 medals were introduced to the winning athletes. Now that's what I'm talking about, if I'm gonna dedicate my life to a sport, train for hundreds of hours, push my body to its physical limit and represent my country in an international competition I best be awarded with a serious piece of jewelery. In fact, diamonds would be nice.
I may not be an athlete but its my guess that for a newly crowned Olympian there is nothing WORSE than clashing with your Olympic medal. Right?
Well, this winter Olympics, our athletes are in luck, because our current season is overflowing with metallic accessories in shades of gold, silver and bronze that will go perfectly with any piece of hardware they take home. If you're not lucky enough to be representing at the Olympics this year you can always use the metallic trend to spice up an every day outfit, and be a superstar in your own right. Bellow is a list of my top picks curated for the Olympian in all of us.
GOLD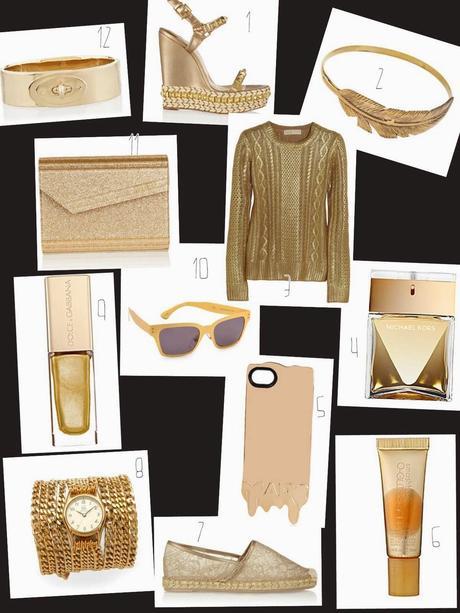 Christian Louboutin metallic leather wedge sandal
SunaharA Malibu feather wrap bangle bracelet
Michael Kors metallic cotton-blend sweater
Michael Kors Gold Luxe eau de parfum
Marc by Marc iPhone 5 cover
O-Gloss gold lip gloss
Valentino metallic lace espadrilles 
Sara Designs all chain watch
Dolce & Gabbana nail lacquer
Super Sunglasses
Jimmy Choo glitter finish acrylic clutch 
Mulberry gold-plated bracelet
SILVER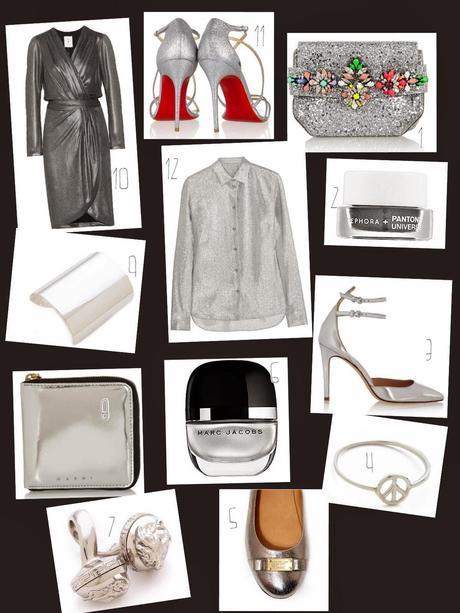 Shourouk crystal embellished clutch 
Precious Metals Pantone Universe
+Sephora Shadow
J.Crew strappy metallic leather pumps
Aurelie Bidermann peace ring
Marc by Marc silver flats
Marc Jacobs silver nail lacquer
 Versace double Medusa wrap ring  
Marni metallic wallet 
Kristen Elspeth silver cuff
Day Birger et Mikkelsen metallic dress
Stella McCartney silver lame shirt
Christian Louboutin glitter finish leather sandals
BRONZE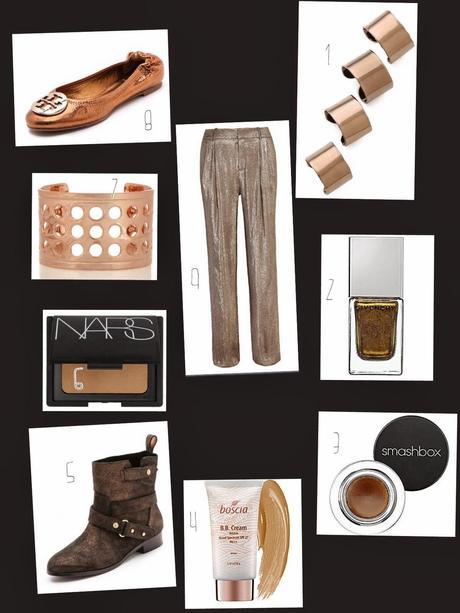 Maison Martin Margiela four finger rings
Givenchy nail lacquer 
Smashbox waterproof metallic shadow
B.B Cream Bronze by Boscia
Twelfth St. by Cynthia Vincent metallic boots
NARS bronzing powder
Arme De L'Armour cuff
Tory Burch metallic flats
Gucci lame wide leg pants
Have you been following the Olympic coverage? Whats your favorite winter sport? Of course I cant let this post go live without throwing in a reference to my
Canadian pride.  
We happen to be kicking butt in the meal count, so my above round up of accessories will come in handy once our Olympians come home with those medals. Have you embraced the metallic accessory trend yet? How do you plan on carrying it into spring/summer?
shop more metallic accessories here...