Evening all,
The biggest financial headline over the last couple of days has to be Gold's more than 10% drop in three days. This is a very significant move because Gold had a very clear support level in the region of 1,550. Even in whole-number pschology, 1,500 was taken out easily. Gold was – and probably still is – a 50-50 case. There is the bullish camp championing Gold's advantage being a hard, physical commodity compared to the many different "paper securities" nowadays; at the same time, there is a bearish camp that believes Gold is overvalued by a lot. Obviously there are many fundamental factors at play, but it is not my job to delve into them.
One thing I can say confidently is that I am not bullish on Gold's mid-term prospects. Gold was already in a downtrend since the latter months of 2012. Nevermind what some central banks are doing with their Gold reserves, the latest decline is just an exaggeration of the current trend. However, in the next few days or weeks, it will not be surprising to find Gold in a volatile range where it is now. After such a sharp move, it is quite likely that the market will take a breather instead of diving further. I will look for set-ups to sell rallies. The upper 1,450s is a good region to catch another wave of selling.
Let us see how this pans out.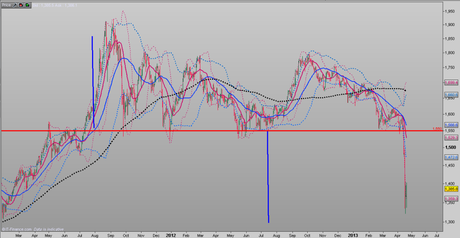 All analyses, recommendations, discussions and other information herein are published for general information. Readers should not rely solely on the information published on this blog and should seek independent financial advice prior to making any investment decision. The publisher accepts no liability for any loss whatsoever arising from any use of the information published herein.