Gola Kababs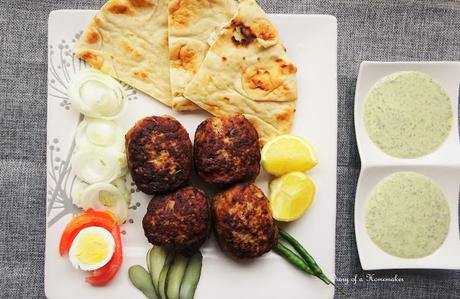 There are some days when I am not in a mood to cook complex meals. Although on some days I plan intricate meals on purpose. Gola Kabab is one such recipe that require minimal effort and time to prepare along with a plus taste factor to it's repertoire. Other Kebab recipes that fall in the category of easy, quick and delicious are: Handi Kebab and Chicken Jalfrezi Kebabs
Gola Kababs have their origin in Pakistan and Afghanistan. They are prepared with ground beef, fried onions, herbs and spices. The rule of thumb for soft kebabs is to avoid using lean minced meat. Rather it is advisable to use meat with 15-20 percent of fat content. Also the mince needs to be ground twice. Your butcher can do this for you or you can use a food processor to achieve the required results.
I have used papaya in the Gola Kabab recipe for the sole purpose of making them tender enough to melt in the mouth. Normally green papaya is used but you can also used ripe papaya as well. Just keep in mind that ripe papaya is used without the peel and raw papaya with the peel. An enzyme in papaya called papain helps in tenderising the meat so the kebabs are super soft.
The kebabs can be shallow fried, grilled, baked or barabecued and served with naan, parathas or kulchas along with a salad and chutney on the side. Gola Kabab is a recipe loved by all the members in my family. These are great of you are looking for new barbecue recipes or fresh ideas for alfresco dining. In fact these kababs can turn into an improvised dinner when unexpected guests turn up.
So what are you waiting for? Try making these decadent Gola Kababs and tell me what you think of them?
IngredientsQuantity
beef mince800g
onions 2 medium
raw or ripe papaya paste1 tsp
garam masala powder1 tsp
red chilli powder 2 tsp
ginger powder1 tsp
roasted cumin 1tsp
roasted desiccated coconut1 tbsp
roasted gram flour1 tbsp
garlic paste 1 tsp
yogurt 1 tbsp
saltto taste
coriander powder1 tsp
green chillies chopped1-2
vegetable oil for fryingas needed
for garnish onion rings, lemon wedgesas needed
Method:
Fry the onions till crispy and light golden brown in color. Make a paste in the blender. You may need about a tablespoon of water for proper blending. Set aside.
Dry roast the gram flour on low heat while stirring from time to time. Remove from heat when the gram flour changes to a faint brown color.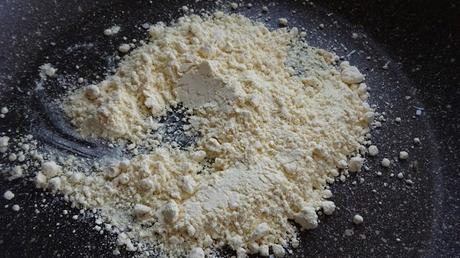 Dry roast the cumin, coriander and desiccated coconut. Remove from heat when the desiccated coconut and spices release their aroma.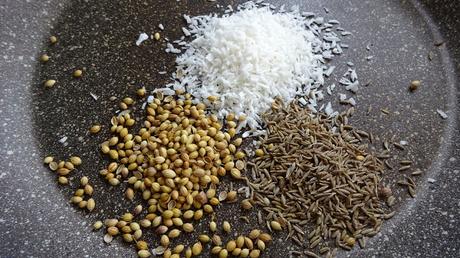 Now mix the fried onion paste into the minced meat along with the papaya paste. Add the rest of the ingredients along with the gram flour and mix very well till all the ingredients are incorporated into the minced meat.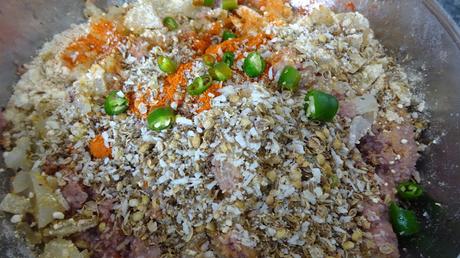 Shape into gola kebab as shown in the picture.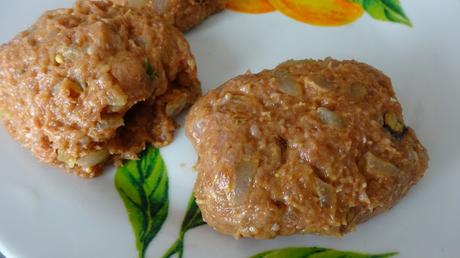 Shallow fry on medium heat until the Gola Kebabs are light golden brown in color.
Serve the fried Gola Kebabs with naan, parathas or kulchas,with a salad and  chutney on the side.
Buon Appetito!!