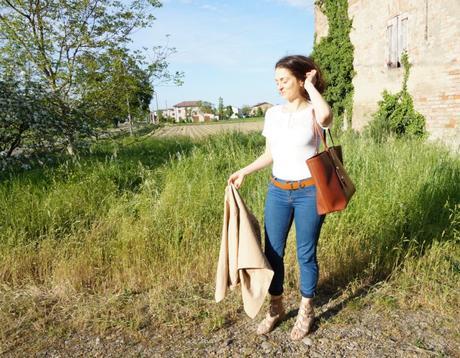 In the Italian countryside it is not uncommon to see abandoned villas, left to decay and grow over with ivy and grape vines by the families who were neither able to sell the land nor update the home.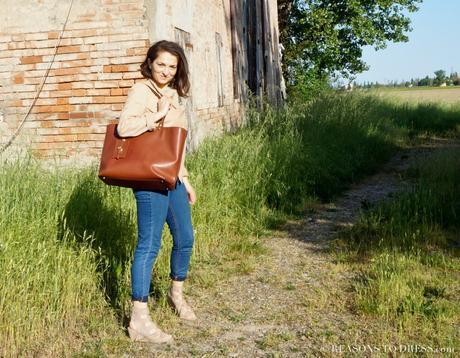 They litter the Italian horizon in every region, but in Emilia Romagna, where I live, they are noticeable from afar because this is Italy's largest plain and valley, wedged between two mountainous regions and known for how "flat" the landscape is.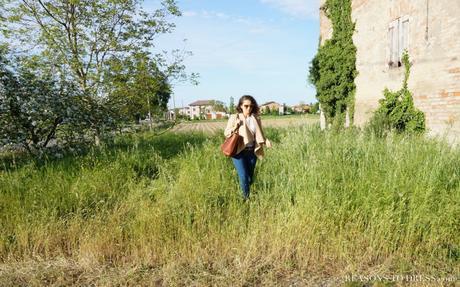 On Saturday, we headed to Carpi to have an aperitivo at one of my best friend's homes. Her home is beautiful and is surrounded by curated gardens with an Olympic sized pool. We were actually able to have adult conversation while the kid's played, and I felt so special and welcome. The drive out to the Carpi countryside is so pretty this time of year and if you want to know more of about Carpi checkout the first edition of the RTD Magazine here!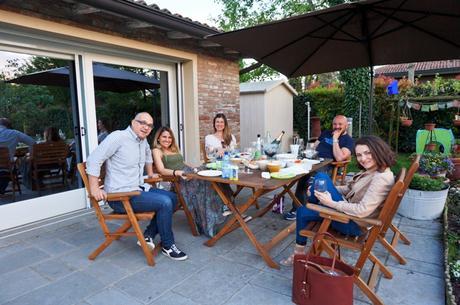 On our way to her home I noticed three or four abandoned villas and I asked my husband to stop and explore them with me, while our little man slept in the backseat. As always my husband always puts "il bastone fra le ruote" , meaning a stick in my wheels!!
He hates the idea of trespassing on someone else's property (go figure), going near "dangerous" and unstable structures and hopping fences or gates for an adventure!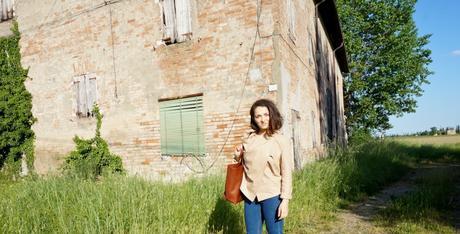 The first place I convinced him to explore had a massive hornet's nest and signs that read "toxic" and "dangerous chemicals" everywhere. Oops, my bad!
But the next home I noticed off in the distance was perfect. A beautiful old red brick shed, a nude brick home, and paths and dusty trails leading off into the fields with long growing reeds.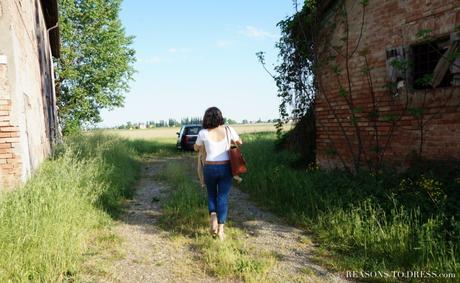 When we were first dating we used to daydream about our "house in the country", a luxury house that we would build ourselves, with a huge washroom/sauna/shower with a massive showerhead and spray jets. It would have a big long wooden table with Prosciutto and salame and caccio cavallo cheeses hanging overtop and when we invited friends over for get togethers we would cut down a prosciutto and serve it to our guests.
At the time we were still dancing in a Tarantella folk band (read that story here) and would often travel to the South of Italy with our friends where we would be hosted by their relatives in this stunning stone rustic houses where dinners were massive and communal and you always felt welcome.
Now it seems our dreams have changed, at least mine have. More than a house in the country, I really want to leave near the water, on a beach. I just long for water and sand between my toes, but I feel as though I still need to explore all of Italy's coastline before I'm 100% convinced of where is right for me.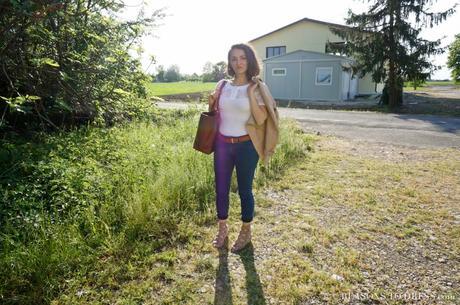 Not that I'm eager to leave Modena, I'm just so curious and lately I've been dying for a change of scene. Does that ever happen to you?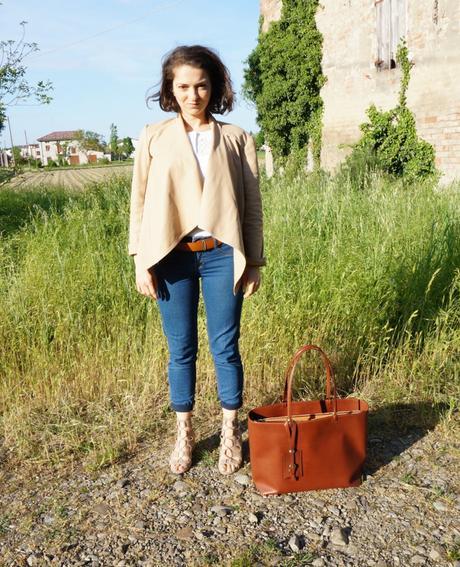 What I Wore - The Nude Leather Trend
You may remember in this post dedicated to my favorite Spring Trends from the Shopbop sale I expressed my new found love for nude leather and blush suede. EVERYTHING new I'm adding to my closet this season is blush, buff, beige or flesh colored!!!
I'm not sure if it is a subliminal message and unconscious longing to get undressed and lay on the beach, but I am READY to show some skin and I'm also simultaneously ready to shed the dark black leather that everyone's been so into for the past few years.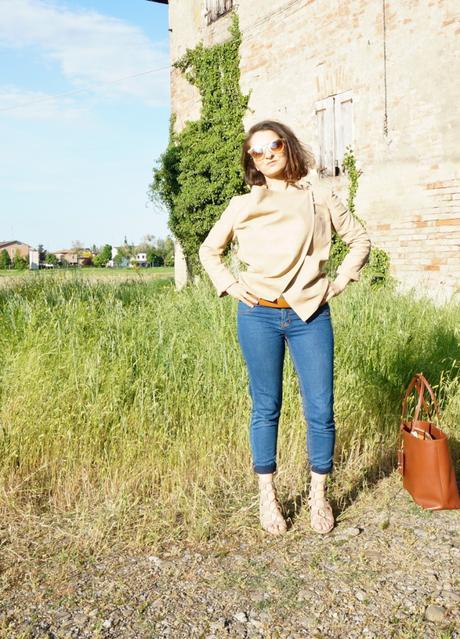 My Jacket - One by Lamarque
The LAMARQUE brand was selected as part of the Shopbop ONE collection to promote emerging brands and designers with exceptional quality and style. It is still available for $425 here in parchment (worn by me), black or latte (similar to a tan).
Sizes range from XXS to M and run a little large, I am wearing an XXS and it was a little bit large around the shoulders. If you normally wear an L, you should be fine in an M.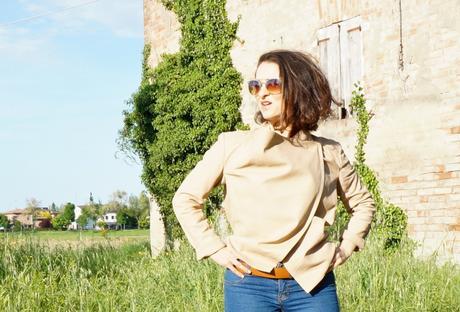 This is a very light, unlined goatskin leather jacket and the under sleeves are in cotton so it is very breathable and PERFECT as a light summer jacket. This is the most amazing leather option if you live in a very warm place like California where you can't always get away with a heavy leather jacket.
In Italy, it is perfect for the Spring and Summer evenings, and the dual shoulder clasp closure ensures it closes even if you layer it over a bulky sweater.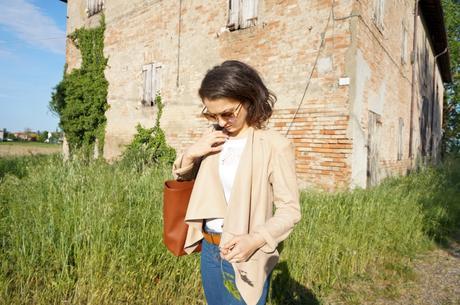 These are some great alternative blush leather Spring jackets, or you can still find my exact jacket available here.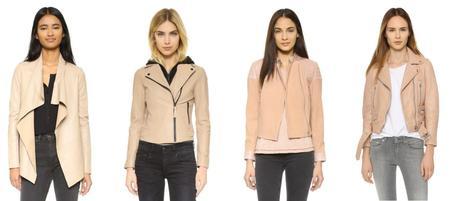 From left to right : Gretal Leather Jacket // Mackage // J Brand // Acne Studios
My Sunglasses - Vintage Forever
These are vintage shades that I picked up at the latest Italian vintage market I attended with my husband in Cervia. You can read about the market here, or even how to find vintage and "luxury thrift" events all throughout Italy in this detailed post.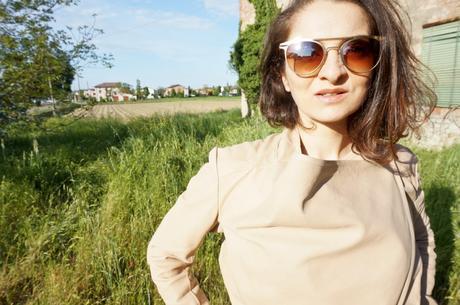 My Bag - The New Brand
For two weeks I haven't been able to move the new brand designs forward, but next week that will change as I mix up my schedule to dedicate to the project 100%. The metal accessories have **finally** arrived so that we can go forward with the samples in a few different colors to test out the designs.
This is the original Brera Bag from the collection in an exceptional quality full grain calf leather. It is a "shopper" with a zip closure, interior pocket and hanging pendant id card holder. I have used and abused this prototype and it is still absolutely perfect!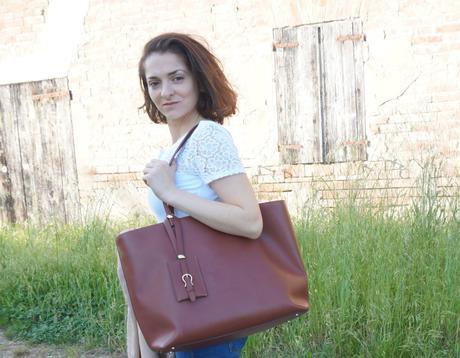 The Vintage Lace Bodysuit
Let's continue down the vintage trend so I can express my joy in one of my favorite purchases from last summer. I was visiting one of my best friends in Rome (you may remember Gillian from this post ...or at least a dozen other ones!) when we came across a lingerie stand in a market with VINTAGE LINGERIE.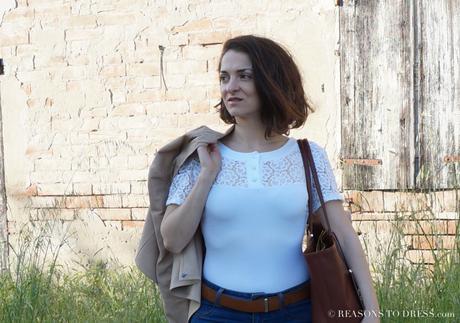 Yes.
Imagine.
Playsuits, bodysuits, nighties, teddies ... all from the 50s, 60s and 70s and all on sale for three euros. They came in those beautiful lingerie boxes with the waxed vellum paper inside and I fell in love....meaning I bought EVERY SINGLE ITEM THAT WAS my size!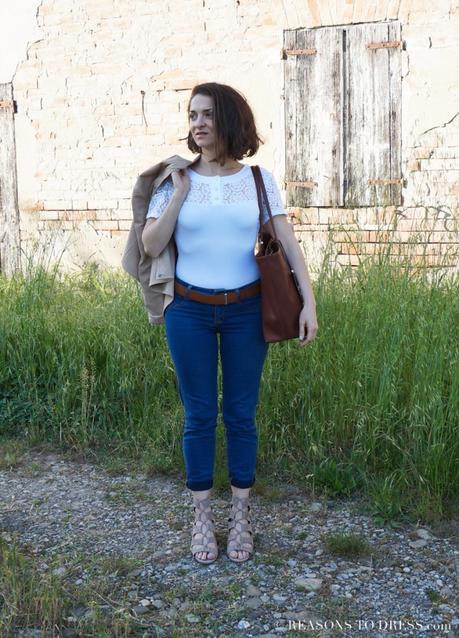 I now have a new vintage lingerie collection that can easily compete with any textile museum, and here I'm wearing one of my favorite's for this summer. A simple white cotton bodysuit with a lace collar and three buttons.
As a side note my belt is also from the new collection and is a unisex belt in hand colored calf with a hidden buckle system and a unique single brass belt loop.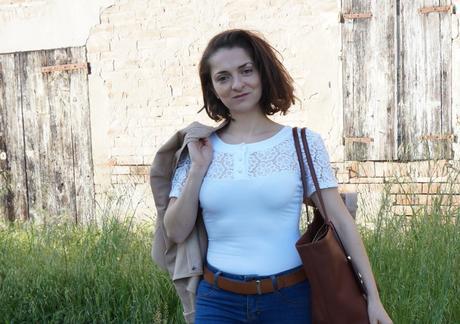 My Shoes - Dolce Vita
It was September of 2015 when I decided I really wanted a pair of gladiator shoes. I know they are all the rage, and honestly, I think they will continue to be a big trend right through 2018. How do I know this? Well, I attend "trend forecasting" seminars, and I will soon be writing an article for the IFB about how all fashion bloggers can attend them to see what will come and go and what will come and stay!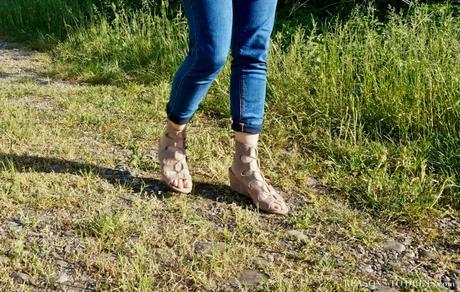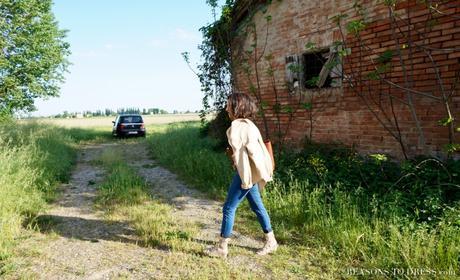 These were care of Shopbop and this exact pair is still available here for $130 in Almond (color shown on me) or black. Not every shoe I wear is comfortable, I'll admit that sometimes I sacrifice comfort for style, but THESE GLADIATOR WEDGES...THESE take. the. cake.
They are THE MOST comfortable pair of high sandals I have ever worn. I was in them from the morning to the night and they did not hurt at all.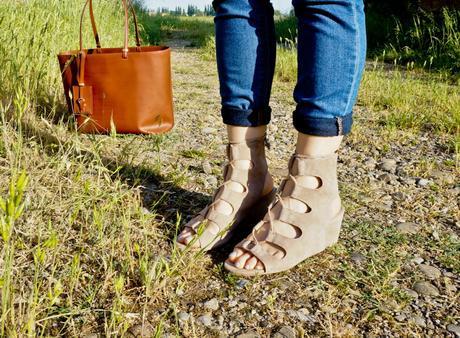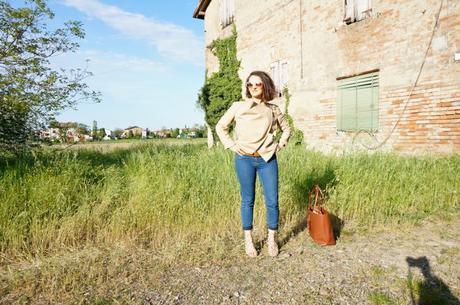 The real suede is very supple and the sole is cushioned and breathable. These are my new go-to summer shoes, hands down, plus they are elongating ! Here are a few options if you love this trend!

From left to right (click to shop directly) : MICHAEL Michael Kors Sofia Flatform Sandals
// Schutz Ruthie Gladiator Wedge Sandals // Dolce Vita Louise Sandals // Loeffler Randall Hana City Sandals
And that's my weekend look. It has REALLY warmed up here, so I can't wait to share some exposed legs and arms looks with you net week! How is the weather where you are?
I'm so happy to introduce this week's linkup co-host Debbie from Fashion Fairy Dust!
#REASONSTODRESS DRESS TO IMPRESS FASHION BLOGGER LINKUP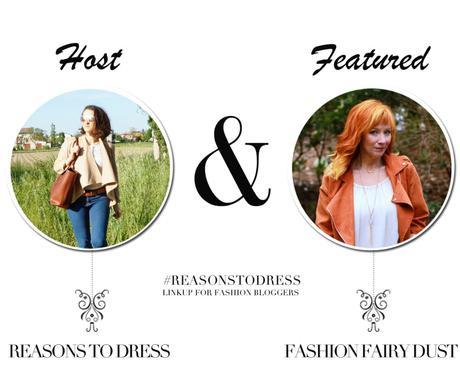 Debbie is a 40+ fashion blogging trailblazing beauty of a woman. On her blog, Fashion Fairy Dust, you'll find a young and modern style interpreted for the mature woman and she has a great sense of personal style. If you are looking for serious outfit inspiration for a petite and feminine shape she is your go-to woman, check out one of her favorite posts here and this great recent outfit here.
She has a natural ability to mix and match prints and outerwear and I think of her as the queen of layering! Feel free to stop on by her blog and say hello as she is very friendly!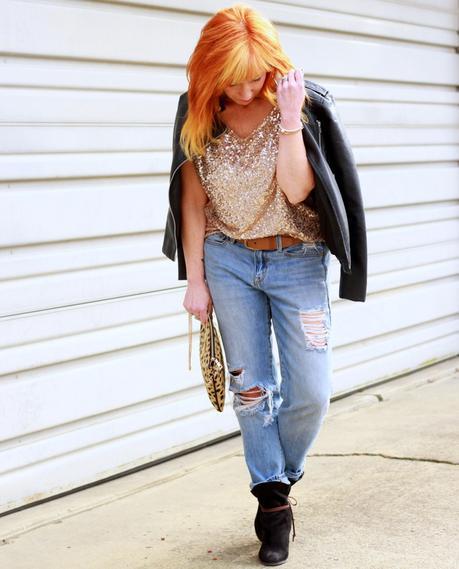 Welcome to the #REASONSTODRESS DRESS TO IMPRESS LINKUP for fashion and style bloggers!
This linkup is hosted by REASONS TO DRESS - An Italian lifestyle blog about an expat-Canadian married to an Italian leather artisan. Part of this new linkup is sharing up and coming style bloggers and we're always looking for fabulous co-hosts who will be interviewed and featured - email [email protected] for info!

SHARE YOUR POST ON TWITTER with the hashtag #REASONSTODRESS & you'll get a retweet!
REASONS TO DRESS - An Italian Lifestyle Blog About Fashion, Travel & Life in Italy
FASHION FAIRY DUST - Personal Style is a matter of taste not age!
THIS WEEK'S BANNER / INSTAGRAM IMAGE :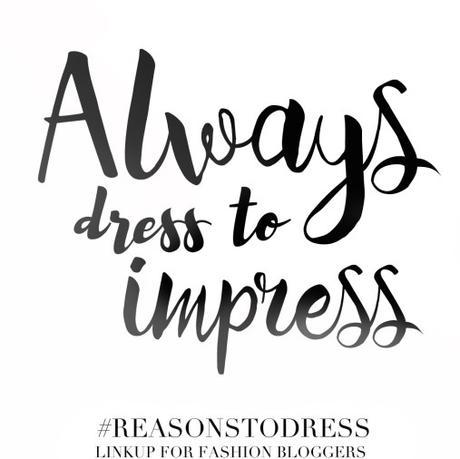 Grab the 200 x 200 version of this banner for your blog post with the code below!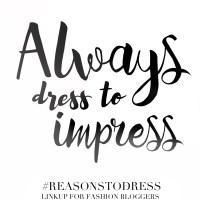 PLEASE : Linkup your STYLE related posts, new and old! Or Linkup a FASHION related picture from Instagram with the hashtag #REASONSTODRESS
PLEASE: Add the badge or a link back to EITHER of the weekly hosts
PLEASE: Follow each host on at least 1 social network , we're friendly, social and generally over-sharers! Let us know that you've followed so that we can share the love!
PLEASE: Please be social and visit a post that interests you. Don't forget to use the #REASONSTODRESS hashtag to let people know how you found them!