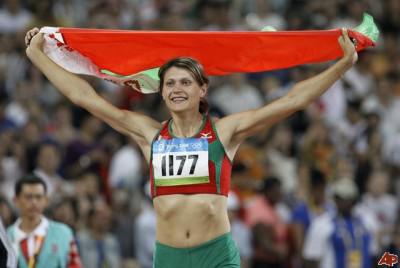 Aksana Miankova of Belarus celebrates her gold medal win in 2008. (Photo: AP)
Starting this Friday, eyes will be glued to the best athletes from around the world as they compete for the gold at the London 2012 Summer Olympics. At the Olympics, athletes are more or less equal. They all stay in the same buildings, aim for the same prizes, and don their country's uniforms. At events, they start from the same line and have the same number of chances to win by running, swimming, or biking the same distance.
When athletes return home after an intense, adrenaline-filled two weeks, however, the opportunities available to them vary greatly. Members of the 2008 Belarusian Olympic team, who took home an unprecedented 19 medals including four gold, returned to a country ruled by a repressive dictator. In Belarus, independent media is practically non-existent, human rights activists are routinely persecuted, and it takes 254 days to get electricity for a new business.
Numerous athletes and supporters face political and economic challenges, but for half of Olympians – and half of their compatriots at home – gender discrimination adds another layer of difficulty.
A recent op-ed by Frank Bruni highlighted why the Olympics are so important for a demographic that is underrepresented athletically (and politically and economically) worldwide: women. Women, he argued, are continually left out of professional athletics. No matter how hard rising female stars work to hone their skills, only a few, such as the Williams sisters or Mia Hamm, become household names. Even those are often overshadowed by their male counterparts.
With this in mind, the Olympics are a time to celebrate women's awesome power, courage, and perseverance. Yet it is also a time to recognize areas of improvement. For example, for the first time in history two women, Sarah Attar and Wodjan Ali Seraj Abdulrahim Shahrkhani, will compete on the Saudi Arabian Olympic team. Their feat is impressive and sets a new precedent for female athletics in the country, but Human Rights Watch and other experts argue that their participation will mean little for women's empowerment in Saudi Arabia, where all women are treated as minors and it is illegal for them to drive.
Human rights violations, closed business environments, and gender discrimination are not, and arguably should not be, the focus of the Olympic Games, which are avowedly apolitical. However, these issues are an important reality for athletes and citizens of many countries around the world.