Almost a year ago, I was contemplating a couple of solo long-weekend breaks to do a bit of walking and to begin explore the British countryside from further afield. But for the average cost of a B&B (bed and breakfast - £50 per night!) and then several months of van problems (before it went to the scrap yard), I probably would've gone off on an adventure somewhere.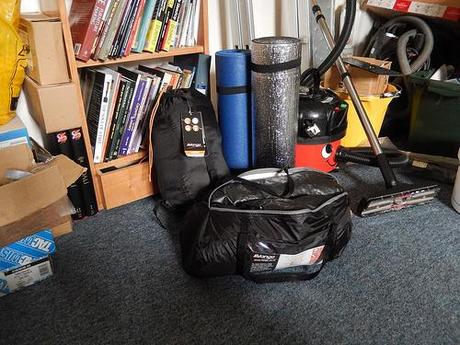 Don't worry; I'm not taking the vacuum.
This year, I've revised my plan to an idea more befitting my budget. One of my reasons for wanting to explore the UK more is that I cannot afford to travel abroad (flights and all) with the money I'm currently earning, when you consider that I'm having to pay monthly rent and other bills as a greater necessity. So, I've decided to invest a bit of money in some basic camping gear and, with the help of 2 friends this summer, I'll be able learn first-hand  'survival' and, ultimately, whether it's for me (fingers crossed).
It started with a trip to Go Outdoors. If you're in the UK and looking for your first stop then I recommend this place. Undoubtedly larger than any high-street store with a large outdoor space dedicated to the display of various tents. I'd refrain from buying anything without first signing up for their £5 annual membership though (my friend's a member and kindly lent me her card so, I saved a small fortune).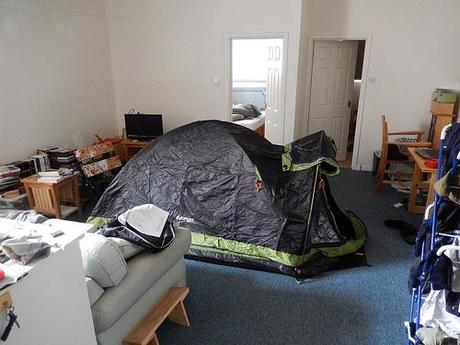 We had a look at various tents there and I even tried a few out for size but I struggled to find a dome tent that was both long enough for me to sleep in while providing ample head-room in case I want to sit down (I didn't fancy one of those 'aerodynamic' cocoon-shaped hiking tents).
I came away from that store with a Vango Latitude 300 sleeping bag. Following my friends advice, I went for one suitable for 2-3 seasons. Even though I only intend to camp and travel during the warmer months, her logic in 'buying a bit extra' made perfect sense. Not only did I avoid paying the RRP with her card but, as this was the Bank Holiday weekend, a further small discount was applied! ;-)
Looking online that evening, I came across the Vango Alpha 250 tent as one of the tallest yet reasonably-priced 2-person tents I could find (you can see it partially erected in my living room, above). This only seemed to be available at Cotswold Outdoor, but I wasn't too concerned about the price as I'd been holding on to a £10 voucher since November. The next morning, I parked up at Broadmead and payed a visit to their Bristol store, only to realize that they didn't hold this model in stock there so, I chose to get it delivered to my home address – it's free and, therefore, cheaper than another park-and-drive to the city center.
My main reason for shopping away from the internet that morning was because Mountain Warehouse appeared to have a bargain-priced roll mat on sale. I didn't even look at their postage costs; I liked this one for its aluminum foil backing and wanted to get it on the day. As I arrived in the compact store, I noticed that it was in fact full-priced here. But instead, they had a 2-for-1 offer running, which meant I could purchase an additional roll mat all for the price of one! So, it was worth the fuel and strife to find a parking space after all.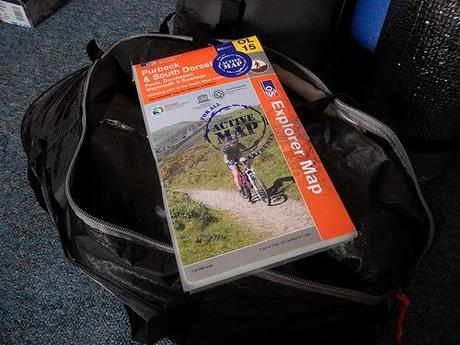 For my first adventure, we'll be heading down to the Dorset to explore the Jurassic Coastline. It's only a 2 hour drive and I like the idea that it's fairly close to home. Devon and Cornwall just sounded too obvious. We both seemed to like the idea of exploring somewhere new to each of us. As much as I'd love to spend my entire time walking though, I also intend to try and settle in to the life of a camper. Some time after that, I'll be crossing the channel for the Brecon Beacons. This'll be far-less walk related and more… Communal? If that's the word.
We're sticking to camp sites (as opposed to wild camping) for the sake of conveniences (hot water and showers). My main concern is what I'll do and how I'll cope personally for food. After that, I wonder about what I could do should I get too snappy with my camera and drain both batteries before either weekend is over! :-)
Thanks for reading. Whether I'll make a third camping trip for 2014 remains to be seen.