"Has anybody seen my god?" So we might imagine an ancient victim of godnapping wailing after a hostile takeover raid. We might smirk to ourselves, knowing that gods only really come in paper or plastic. The only godnapping that goes on these days is when someone hacks our credit card number. These were my thoughts when a friend sent me a link from ASOR's website, "'Godnapping' in the Ancient Near East" by Shana Zaia. Stories of godnapping are known from the Bible, like where the Philistines defeat the Israelites and take the ark of the covenant to the temple of Dagon. It's easy to congratulate ourselves in this post-theistic age that we've developed more spiritualized versions of deities to disbelieve. At least we didn't believe some hunk of wood was an actual god. We at least had a person nailed to it.
I used to ask my students what the difference between an "idol" (not the American variety) and a "god" was. The usual understanding is that an idol was made out of something like wood or metal. The ancients weren't so naive, however, as we suppose them to have been. Before any carven or graven image could be considered a "god" it would have to undergo a ritual to make it one. Elaborate ceremonies attended the process in which even ancient sophisticates realized that this piece of rock or wood wasn't actually the fullness of the deity it represented. It was a symbol. A symbol invested with power, to be sure, but a symbol nevertheless. What was an "idol" then? Merely a modern way of degrading another religion. "Idol" can never be a neutral term.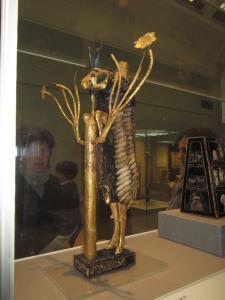 Imagine the ark of the covenant in the temple of Dagon. It was a box overlaid with gold, on top of which sat cherubim. Two of them. Images, but not "idols." Inside, depending on what passage you read, you might find the original ten commandments, a jar or manna, or Aaron's rod. Or all three. You might find nothing inside. The point was in the power of the symbol. Godnapping was a real fear in ancient times. A deity captured left its people vulnerable to the whims of others. Today we may rely on the high priests of encryption to keep our divine numbers safe from those who hack at the new idols. Gideon, after all, was the original hacker, and we all know how he ended up. Those who destroy others gods often fall into worshipping them once the hewing is done. The only question left is if one prefers paper or plastic.