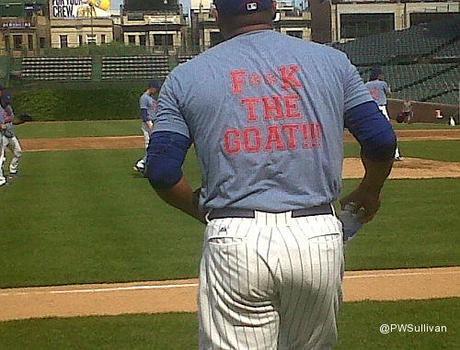 Goat Fuckers
: You have to give the Chicago Cubs some credit for their sense of humor (you know, unlike the previously cursed Red Sox).   The Cubs have not won the World Series in 103 years.  Rather than cite awful ownership or mediocre players or terrible luck (I am talking to you, Steve Bartman), many people blame Chicago's inability to win another championship on a goat.  On October 6, 1945, William Sianas, a local restaurant owner, brought his pet goat Murphy to Wrigley Field during the World Series.  Even though he had purchased two tickets for $7.20 – yes, one for the goat – both William and Murphy were denied admission.  Incensed at this unfortunate turn of events, William placed a curse on Wrigley Field and the Chicago Cubs.  And they have not won the World Series since.  Over the years, different Cubs teams have reacted to the curse in different ways.  But this year's squad seems to be living it up.  They are donning warm-up t-shirts that say "Fuck the Goat!!!," which are emblazoned with a crossed-out cartoon goat.  Apparently, this became a joke during Spring Training and the guys thought it was so funny that they made t-shirts.  I support any occasion where a cute t-shirt can be made.  And this is most definitely one of them.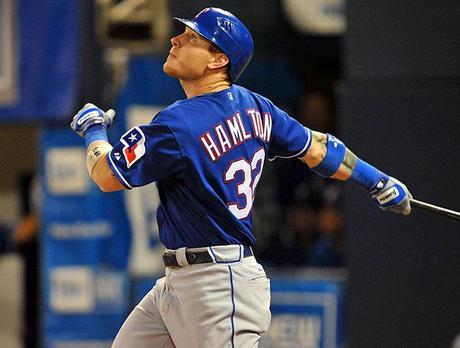 Bullshit Excuses?:
  I was all ready to rail on Josh Hamilton; inappropriately allude to the fact that he must be hitting the bottle again; and laugh about how light-eyed people are slightly deficient in the brain-related area.  And then
the New York Times
jumped on board, along with some rando optometrist on ESPN, and now faced with facts, I feel like I have to bite my tongue.  See, Josh Hamilton complained that, because he has blue eyes, he has more trouble seeing a baseball during day games.  His stats backed him up, but it still sounded ridiculous.  Jason Bay agreed, but who would listen to The Queens Disappointment?  But then I discovered that these fools wear red and orange-tinted contacts to dull the glare.  That doctors, like real medical professionals, agree with their ridiculous theories.  So, the jury is still out, as far as I am concerned. Science is normally somewhat credible, but this is just too much of a cop-out for us, normal-seeing, brown-eyed brunettes to tolerate.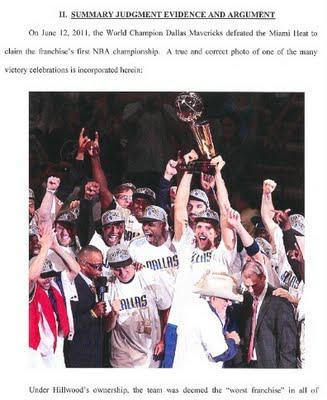 Legal Awesomeness: 
Oh, Mark Cuban, I love you.  I love owners who act like fans, and I love ballsy attorneys.  Mark Cuban, owner who acts like a fan, has one of those (or, probably, a whole team of them).  When Cuban bought the Dallas Mavericks, Ross Perot Jr. – yes, him – kept 5% of the team.  And two years ago,
he sued Mark Cuban up the ass
, accusing of him of doing everything from mismanaging the Mavericks to fraud.  Last week, Cuban's attorney filed a motion to dismiss.  The "Evidence and Argument"
in its entirety:
On June 12, 2011, the World Champion Dallas Mavericks defeated the Miami Heat to claim the franchise's first NBA championship. A true and correct photo of one of the many victory celebrations is incorporated herein: [Ginormous color photo of the Mavs' post-game celebration on the court].
Under Hillwood's ownership, the team was deemed the "worst franchise" in all of professional sports. Under Cuban's stewardship the Mavericks have become one of the league's most successful teams and are now NBA champions. Accordingly, there can be no genuine question that Hillwood's claims of mismanagement lack merit and Hillwood's claims should be disposed of on summary judgment.
As if that wasn't a big enough fuck-you, right?  Because here is the "Conclusion:"
For the reasons detailed above, the World Champion Dallas Mavericks and RMM request the Court grant summary judgment [i.e., dismissal] in their favor on all of Hillwood's claims and award the World Champion Dallas Mavericks and RMM such further relief to which they are entitled (although they are quite content at the moment). 
Good God.  AMAZING.  Just amazing.  I especially love the final "although they are quite content at the moment."  I would never move to Dallas, but if I ever did, I would totally want to work for Fish & Richardson, P.C.  Also? This is why Mark Cuban should be allowed to buy the Dodgers.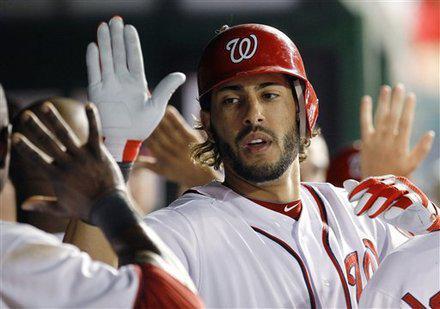 Teeny-Bopper Crushes
:  So, for awhile there, none of my fantasy players were injured. And then in a mad wave of evil injuries, everyone got hurt.  I always had like 4 billion outfielders, but all of a sudden, I found myself short one.  So I picked up this dude, hyped and then entirely underwhelming at the start of the season, some scruffy dude named Michael Morse.  And sweet lord haysus, chicks totally dig Mike Morse. We want to have his fantasy baseball babies.  Since I picked him up on June 3rd, he has: 18 runs, 25 hits, 8 HRs, 20 RBIs, 1 SB, and 57 TBs. Three weeks of pure awesome.  No one on my team – not ARod, Robbie Cano, Ryan Braun, Nelson Cruz, Matt Holliday, or Lance Berkman – has been more productive.  And then I read
this awesome profile
about him in the Washington Post, and I just…fell in love.  Do I think he can keep this up? No, I do not.  At least, I think his batting average will drop significantly.  But do I think he is the real deal in terms of power? Omg, yesssssssss. 
Okay guys, I am off to work.  I hope you all have a good Tuesday!