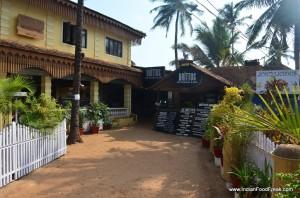 Goa mesmerizes me. Even before I had gone there, it didn't fail to surprise me with all the stories, places to go, the beaches, the people and of course, the food. As I discovered during the trip, it's all about lying all day on the pristine beaches, drinking, eating, lazing around and partying all night. Since it would have been my first time in Goa, I tried to get every ounce of information I could. The time was less, because our 'planning' had begun just 4 days before we left. We took a package deal from a holiday portal (never going back to them again!) that got us booked into a so-called 4-star property near Calangute post office.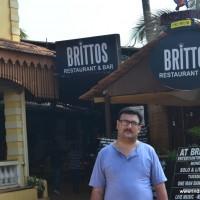 We took off on a Saturday for three days. The flight was uneventful, and when the doors of the aircraft opened in Goa, we were hit by a long-time-no-see humidity and heat. It had been quite some time that I experienced this level of humidity. Our cab driver informed us that the weather remains almost the same throughout the year, with the exception of December and January, when it's somewhat cold. It was a 50-minute drive from the airport to our Hotel.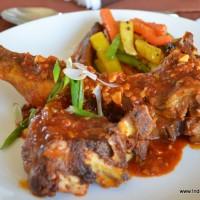 Upon arrival at Hotel Neelam Glitz, we were informed that since it was a Saturday, Goa has a Saturday night market that we might enjoy, though 'might' can be  a misleading word. We quickly went for dinner in the hotel's restaurant, consisting of Sorpotel –  an overly spicy curry containing pork pieces with no flavor whatsoever, and Chicken Masala, which was made well, balanced spices and the right amount of chili. We had them with boiled rice. We came out of the hotel, to be greeted by a gent offering us two-wheelers on rent. Oh yes, there's nothing better than having your own transport when you're on a holiday. Take it where you want, when you want. So we did, asked for directions, and started off.
A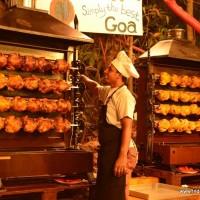 s I said before, 'might' was such a misleading word! This was not a market, but a world fair! A cornucopia of colors, lights, food, drink, people – it was another world altogether. People from almost every state in India and every country in the world were here. I might sound as if I were exaggerating, but that's how it seemed. A huge brightly lit pack of stalls, with everything available – from booze to artworks, boots, paintings, clothing, accessories and of course, international food – this was a first for me. All kinds of faces, from all kinds of places, with all kinds of languages flying around – intriguing. We had done the mistake of having our dinner before we started, and that's what kept me off all the heavenly looking food at the market! The perils of being a first-timer- no one told me there'll be international food there too. We did try some of the food, though I couldn't finish all of anything- meatballs (beef) in a bun, a Lebanese platter and some grilled chicken.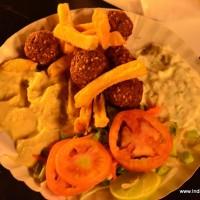 The meatballs were dry and tasteless. Normally, when juicy meat is combined with a relish and some vegetables, it tastes fantastic, but in this case, it was the other way round. The Lebanese platter was not good either. The Falafel was cold, felt its been kept for sometime; the Hummus was thin in texture & tasted bland and the Pita Bread was crumbling. The lifesaver was the Grilled Chicken, which was not great, but quite edible. We also sampled waffles with bananas, chocolate sauce and whipped cream. Nothing great to write about. The food looked good, but tasted average. Wish I could have tried everything to separate the good from the bad, but my stomach also has its limits. In the center of the area was a live band performing.  Anyhow, we spent about four hours there, strolling and taking in the sights, and came back.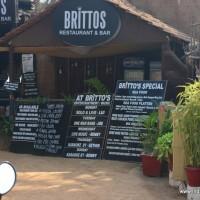 The next day I decided to explore the places I was told about, so we first went for a dolphin cruise. All we could get was a glimpse of a few dolphins with their heads bobbing out of the water, though I would have loved to see them doing their jumps. Lunch time, we went to Baga beach. And that's where I discovered Britto's. Awesome lunch there, more so because the menu had all meat. Heaven. Our table was laden with grilled pork ribs in vindaloo masala, served with vindaloo curry dip; vegetarian manchurian, vegetarian hakka noodles and beef chilli fry. The pork ribs were heavenly. The saucy and spicy masala ridden meat, soft and juicy, just melted my heart. The manchurian and the noodles were better than most I've eaten. But the beef was a let-down, had a sweetish tinge to it, and was overcooked, which personally is not to my liking. Dessert was a fresh fruits with banana ice cream. The ice cream was lovely, with just the right sweetness and a rich banana flavor. Post that, we rode a jet ski, another dolphin cruise and some parasailing.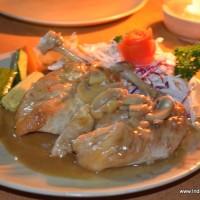 Evening saw us at Souzo Lobo at Calangute Beach. The beach isn't much to write home about, and neither is Souzo Lobo. I had heard good things about the place, but this was a gross disappointment. We had a chicken steak, honey chili potatoes, mussels rava fry, fish fingers, and pork chili. I'm sad to report, despite all the hype about Souzo Lobo, the place is a BIG let-down. None of the dishes were even average, let alone being impressive. The steak was overcooked, the sauce on top was bland, even the accompanying veggies tasted stale; the potatoes were nothing more than boiled potato sticks dipped in tomato ketchup; the mussels were dry and chewy; fish fingers were undercooked and smelled distasteful; the pork, again, was smeared with what tasted like a mix of tomato ketchup and some vinegar.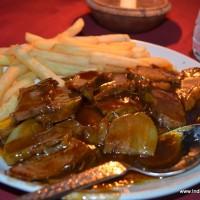 The next day we explored old Goa on our bike. The St Francis church in old Goa is a tourist attraction, but more enjoyable is the bike ride till there. Once you reach Panjim, Goa's capital, head towards a place called Ribander, and you will find yourself on the road alongside Mandovi river, leading to the old church. The gentle and cool breeze takes away all the heat that is otherwise a characteristic of Goa and makes the ride memorable. I suggest not to take your car, but a bike to enjoy the experience. We also went to Miramar beach, which is avoidable, and then to Donna Paula, a good place to spend an hour or so. Evening was again at Baga Beach, and we decide to be a bit adventurous. We went to the shack next to Britto's, known as St Anthony's. We ordered grilled pork in brown sauce and the wife asked for vegatable spring rolls. My compliments to St Anthony's for the Pork- absolutely tender and crisp, even with the sauce on top, though I had to add some Tabasco to add some spice, but that's me. The Spring Rolls were equally good, with a generous amount of filling inside paper-thin wrappers and the taste evenly balanced.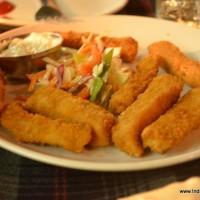 But then, because of the food the day before, our loyalties had been established, so Britto's it was, again. Lovely food again! We ordered a Seafood Platter (Mussels, Prawn Cocktail, Grilled Fish, Baked Crabmeat, Squids in a Cream Sauce)- out of the world! The mussels were velvet soft, yet retaining the bite, the crab had the required smoky flavor, the fish was perfectly cooked, the prawns with the right hint of sweet & sour and nice and creamy squids. Then were the Fish Fingers, beautifully crisp on the outside and soft & tender on the inside. Butter Chicken (!) was ordered, and surprisingly, it was great! Rich, smooth gravy with a hint of spice and sugar, went delightfully well with a butter naan. Heaven!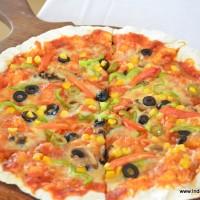 The next day was the last in Goa, and we went to Aguda Fort, which houses a prison and where a scene of a famous movie was shot (Dil Chahata Hai). Lunch was at the hotel's restaurant, where we ordered an All Veg Pizza, Pork chops and Thai Green Curry. The pizza was thin crust, had the right toppings, and was nicely made. The pork seemed kept in the freezer for at least a week and then cooked. The meat was dry & somewhat undercooked and it took me some muscle to cut it down. Couldn't finish it.  The Thai Curry was thin in texture, but had the right flavors. Went well with the rice. Afternoon, the hotel vehicle took us the airport and thus ended our Goa escapade.
In just three days, we had a tan to last us for another couple of months. If you ignore the weather, Goa is something that one can never forget. Do arm yourself with the information before you leave. In case you're a vegetarian, it might be difficult in terms of food. Goa is all about non-vegetarianism, though a few vegetarian outlets can be found. Pickup your bike, and explore Goa on your own, an experience not to be forgotten. I won't.
- Amit Uppal