Halloween is right around the corner. Sure, you could buy a ready-made costume, but where's the fun in that? Here are our picks for five fun, flirty and totally original Halloween costumes using just a swimsuit, some props and your own creativity.
1. Funny Bunny
 
Who doesn't remember the scene in Legally Blonde when the fabulous Elle Wood showed up at a non-costume party in full Playboy Bunny costume? You can recreate the look with SwimsuitsDirect.com's Vintage Lingerie Maillot By Anne Cole in pink. Purchase a pair of bunny ears from the dollar store, craft a cotton ball tail, and apply face paint nose and whiskers to put your own twist on this classic cuddly costume.
2. We're Gonna Hear You Roar
 
Katy Perry rocked the jungle queen look in the video for "Roar." Choose from the Animal Attraction Bikini by InMocean, the Animal Kingdom Bikini by InMocean, the Leopard Love Bikini by InMocean, or another one of SwimsuitsDirect.com's fierce animal print swimsuits to rule an animal kingdom of your own. All you need is a skirt, floral crown, wood staff and a whole lot of swagger to pull this one off.
3. Get Physical
 
Remember big hair, frosted pink lipstick and sweatbands? While the 80s may have come and gone, the memory of Olivia Newton John sweating it out in her most famous music video remains.You provide: the cut off sweatshirt, leg warmers, sweatband, feathered hair and hot bod. We provide: the Painterly Stripe Shirred Front One Piece By Anne Cole.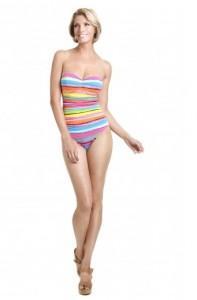 Let me hear your Body Talk!
For a different Olivia Newton John-inspired theme, go with good-girl-turned-bad Sandy from Grease. Pair leather pants, your favorite stilettos and the Princess Mesh One Piece By Anne Cole. And don't forget to practice your big line, "Tell me about it, stud."
4. Baywatch This
 
Pamela Anderson became a household name when she bounded and bounced across television screens as the ultimate fantasy girl-cum-lifeguard C.J. Parker. Combine the Lingerie Maillot By Anne Cole in red-hot red, your favorite Uggs, a whistle and life preserver and you'll be ready to take on earthquakes, sharks, serial killers, nuclear bombs, and even the occasional drowning person. The best way to make an entrance in this costume? Don't walk….slow motion run, instead.
5. Get Your Twirl On
 
Every little girl dreams of being a ballerina, but a dark, daring "Black Swan" themed costume takes it to an entirely different level. Dress up our Splice on the Side Asymmetrical One Shoulder Colorblock One Piece by Anne Cole Control with black tulle tutu, pink ankle ribbons, oversized tiara and LOTS of eye makeup.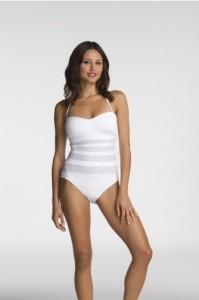 Just Add wings
If you're feeling like a more havenly flying being, pair SwimsuitsDirect.com's La Blanca Sheer & Present Danger One Piece Bandeau with angel wings for a look that's more ethereal than evil.