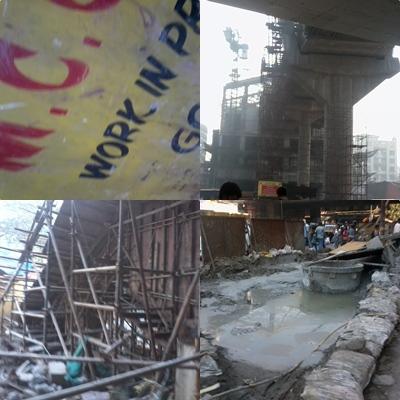 Go Slow....Work in progress...
My first professional job was at Andheri, Mumbai. Andheri is now a days considering as Job hub but only one problem which forced the person to leave the job is traveling. Long ques for bus and auto has failed to help commuter to travel one place to another place.
In addition, every part of Andheri is under Work in progress. This what i have personally experienced and still experiencing from my first job in 2004 till my third job again in Andheri in 2013. Nothing has changed. Only place of Work in progress Board has changed from one place to another place.
Travelling by walk is only the good option rather than traveling through bus and auto. Many commuters including me having a daily walk from station to work place which normally takes atleast 25 minutes. This is only one ways journey time by walk and the same time for evening.
Every contractor is having their own schedule and that schedule gets extended year by year. No single person knows that what was old schedule and what is the revised schedule of the particular contract work. No contractor is bother about the time and government money which comes from our pocket by way of taxes. I still remember that one of my friend failed to disclose interest income of Rs. 3,000 in the income tax return by mistake and her bad luck is that she got notice of undisclosed income from Income Tax Department and have to pay tax on that. So the government is more concern with collection of money from the public and not proper utilization. 
Now commuters are habitual with this word " Work in progress" and only one rumors in the mind of every persons that "Ye kam kab khatam hoga ...