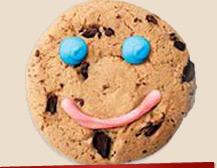 I can't think of another blog that frequently asks its readers to support charity like we do. We've asked you to play video games for the environment, eat chocolate for Africa, turn off your lights for Charity and get your hair cut. Now the abuse continues as we ask you to have a hot cup of coffee and a cookie.
This week ( Sept 19-25 ) Tim Hortons is holding their Smile Cookie Campaign with 100 percent of proceeds going to local charities, hospitals and community programs.
All across Canada the money raised will go right back into assorted charities in the province. Charities supported include The Childrens Wish Foundation, Big Brothers Big Sisters, Local Hospitals and Food Banks, Habitat for Humanity, Relay for Life and more.
Smile Cookies (chocolate chunk with a smiley face iced on) are selling for $1 each, plus tax ( Purchases of five or more mean no tax).
All right people I'm asking you to do your duty and eat some cookies today.
twitter @justfundraising