Google has announced a new App called Inbox, this app is Google's take on handling your email and help you organise it to make sure you get the best email experience.
The App is basically your usual Gmail Inbox which is re-imagined by the Gmail team to make your email more accessible and you all the information from your email as you need without even opening it.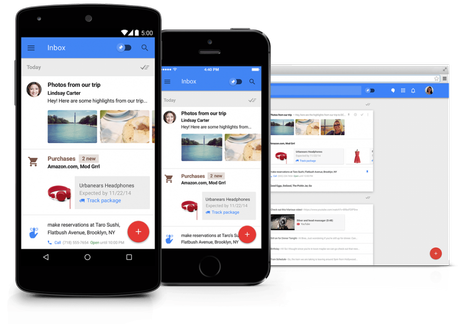 Inbox is nothing different from your traditional email inbox except a few things which are added to it.
Bundles : Just like the Gmail tabs which auto segregate your email per its category. Bundles groups emails together to quickly check emails of the same type. For example bank statements or purchase receipts from retailers are grouped together and are a swipe away. These bundles are customisable and can easily be modeled as per your use.
Highlights : This is one feature you would love the most. It pulls all the important and relevant information from your email to display it easily at a glance. For example, flight itineraries, photos, documents, event information etc are auto extracted from your email to show them in front of you. Such important emails usually have this information for which we need to open and check, Inbox instead pulls all the relevant information for you. For flight and package information Inox will also pull info from web to make it easy for your to track all the necessary information you need from them.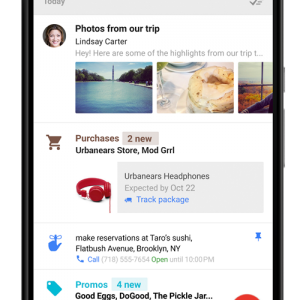 Reminders, Assists and Snooze : Gmail always had  tasks but it is one of the least used feature. It integrates with your calendar and also is displayed in your email. To make it more useful and accessible, Inbox focuses on keep tasks, reminders and your to-do list easy to view, glance and execute. Just like Google Now's info card, Reminders and tasks are displayed in the Inbox App.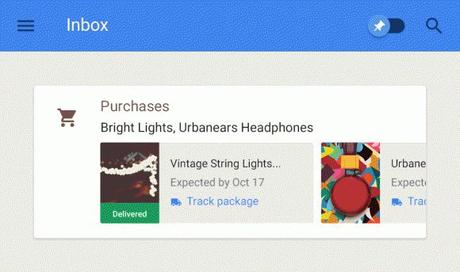 Inbox is invite only, you might be in the next round of invitations but if you can't wait till that happens you can email [email protected] to get an invitation to make it available to you sooner.
Inbox looks like an experimental take on how Google sees Gmail should be as the Gmail Team explicitly mentioned that Inbox will feel different from Gmail and if you want the old Inbox you can always go back to your regular Gmail interface.
via Gmail Blog and
Inbox