Google is revamping its service completely it seems. Gmail too has added a lot of new  features lately.


People Widget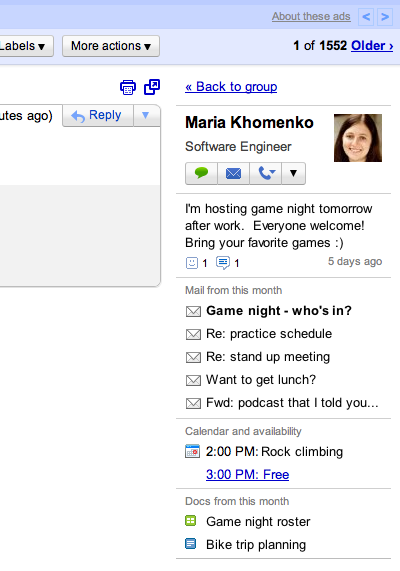 The much awaited and announced People Widget should now be available for everyone. The widget shows information about the people you're communicating with: profile photos, occupation, Buzz messages, recent email conversations and documents shared with you, calendar availability, and it might soon have Google+ profile information.
New Inbox Styles


Not everyone liked the Gmail Priority Inbox, many complained it to be very intimidating. So that's why Google might be testing this new inbox style which comes with a welcome message
'Try out all the new inbox styles to see what fits you best. You can always switch back if you change your mind'
This new Inbox basically has five new inboxes : Classic, Important first, Unread first, Starred first and Priority Inbox.
It does look a bit organized but the traditional inbox is comfortable to use.