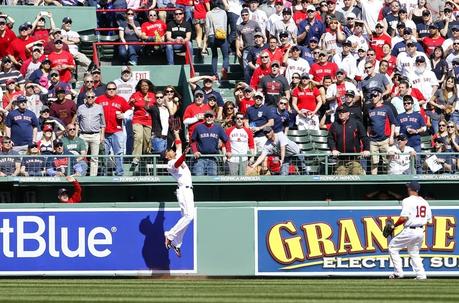 It was The Mookie Betts Show for the 104th Opening Day in the history of  Fenway Park yesterday.
And I am so glad I was there to witness it live and in person with The BLOHARDS.
Mookie made his presence known right away, as he robbed Bryce Harper of a two-run home run in the first inning, as he leaped high above the bullpen to snatch it. And in the bottom of the first, with David Ortiz batting and a shift on, Mookie, on first base, stole second, and then immediately high-tailed it over to third, as no one was covering the bag, and just made it ahead of pitcher Jordan Zimmermann's tag. It was just the 11th time in the last 100 years a player stole two bases on one play. (The last being Dustin Pedroia last August.) He scored on Papi's single for the first Red Sox run.
With the score 4-0, Mookie came up with two on in the second, and hit a line shot into the Monster seats for his second home run and it gave the Sox a 4-0 lead.
It was a really bad day all around for the Nationals, as two outfield misplays were centered around a four-run Red Sox third, and it was 8-0. They knocked out Zimmermann, who was charged with 7 earned runs. David Ortiz added a home run into the Monster seats in center in the sixth that made it 9-2.
Rick Porcello went eight solid innings, giving up four runs. The bullpen needed the rest after being stretched out twice in New York. Junichi Tazawa pitched a scoreless ninth to complete the 9-4 Opening Day win.
The Sox are now 10-1 in their last 11 openers at Fenway. But this day will be remembered for the heroics of one Markus Lynn Betts. We may have seen the emergence of a star yesterday.
And I'm so glad I was there to see it in real time.