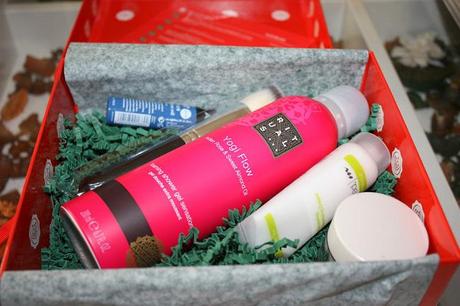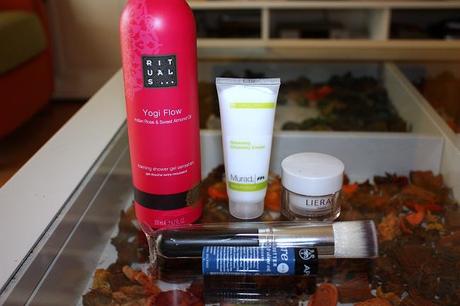 I am huge beauty-anything fan and I love trying lots of products before I make my final decision, so when I knew that Glossybox was coming to the Netherlands I had to order the very first box! I already received the November and December boxes but now that I am in Spain I wanted to see if there was a big difference between the Dutch one and the Spanish one! So, here it is: the special xmas edition of Glossybox Spain.
Overall I liked this box way more than the Dutch December one, because I got some very good products but there was one product less and you pay the same price so that was a downside. What I got:
Lierace Coherence de Jour: anti-wrinkles cream that I don't think I need yet… So I didn't even open it. Price: 50ml/68 Euros.
Rituals Yogi Flow Indian Rose & Sweet Almond Oil foaming shower: I love the smell and the texture! It came in its original size so it's 200ml of amazing-ness that I wouldn't have purchased with my own money. Price: 7,90 Euros.
Apivita lip care with cocoa butter: just a lip balm with coconut smell. It does smell very good and it makes your lips soft. Price: 4,70 Euros.
Murad renewing cleansing cream: the first step to your daily beauty routine. It also has some exfoliant particles which I really like and it smells like tropical fruit. It is a very expensive product tho, 43 Euros for 200ml  so I don't think I would change my current cleanser.
Magic coast buffer brush: love this! It's a MAC's 188 copy but on the very cheap side. Perfect for applying foundation or tinted moisturizer in my case. Price: 11,21 Euros.
Out of 5 products I really liked 4 of them and I didn't need 1 at all. I believe you can change your beauty profile on their website so you get products suitable for your skin type but the cream got in my box anyway.
This box was only 10 Euros with no shipping costs; in the Netherlands I pay 2,50 Euros extra.
If you want to order your own you can do it at Glossybox Spain or Glossybox Netherlands.
Follow me on FACEBOOK // TWITTER // BLOGLOVIN
Join the GIVEAWAY