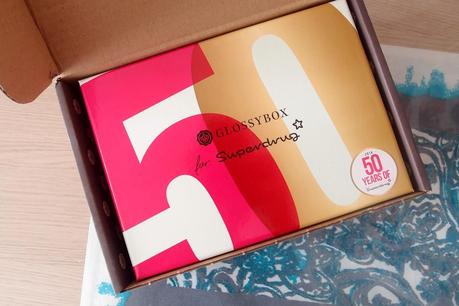 For a while now I've been debating whether or not to sign up to Glossybox, so this month I've finally subscribed. Signing up was so quick and simple and I decided to go for the £10 a month subscription (+P&P), purely because I like to have the option to unsubscribe at any time. I signed up just in time for the May Glossybox, so I was super exited to have the Superdrug edition. It arrived about a week after signing up, and I was quite impressed that they still sent me the May one, despite me signing up late in the month.
The packaging is very well designed. It comes in an outer, cardboard postage box, like you can see in the picture. The Glossybox fits perfectly inside, so it doesn't get damaged during delivery. I also like how they've even made the postage box pretty!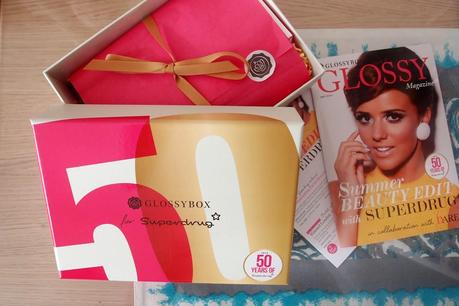 So as this months box was to celebrate Superdrugs 50th aniversary it had a funky Superdrug design which I love. When I opened the box it felt quite personal, inside there is a monthly Glossybox magazine containing different products and what not. And there is also a leaflet telling you a little bit about the products in your box and also how much the full sizes cost, which is good to know. 
The products are perfectly wrapped in tissue paper and tied with a bow. For such a huge company, I love how they pay such attention to detail when packaging the boxes. The products are well presented in the box and they're padded out with crinkled paper, which again will stop the products from being damaged during delivery.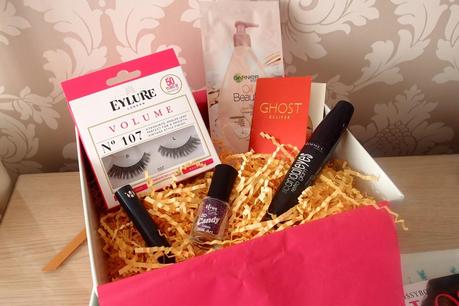 The products in my box this month: ~ Rimmel Scandal Eyes Mascara (full size) ~~ B. Sheer Conditioning Lipstick (full size) ~~ Eylur Volume 107 False Lashes ~~ 2true Candy Nail Art (full size ~ ~ Garnier Oil Beauty Lotion (sample sachet) ~~ GHOST Eclipse Perfume (sample bottle) ~
I'm over the moon with the products that I have been sent, and I'm exited to try them all out.