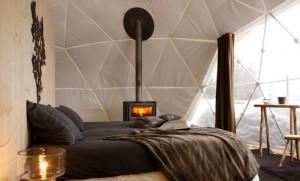 If you love the outdoors but hate the idea of sleeping in a stuffy tent, living off of burgers and hot dogs, and "showering" with wet naps every day, you may be interested in this alternative option to camping: Glamping.
What's glamping you ask?
Glamping, otherwise known as glorious camping, is a luxury version of the traditional camp experience. For all the prima donnas out there, it's a great way to enjoy the outdoors and still have the comfort and amenities of a five-star hotel, such as electricity, a fluffy bed, healthy meals, and hot water.
And there's more to glamping than staying in a glorified tent—there are all kinds of pimped-out accommodations you can potentially stay in, including a villa, hut, cube, teepee, tree house, or a safari lodge.
It may sound pricey, but don't run away just yet. Glamping isn't just for the affluent couple looking for a spontaneous getaway to Switzerland—although that is a possibility. The prices can range anywhere from $50 to $2,500 a night, so it's also a great way for anyone to travel, from budget-conscious families to honeymooners to bachelorette parties. In fact, some corporate businesses are even hosting team-building events at glampsites.
However, since the amenities provided at each glampsite can vary greatly, you'll want to make sure you do your research. Trip Advisor or Glamping.com are both great resources to discover glampsites and read reviews from seasoned glampers.
To get you started, here's a quick glance at some of the best glampsites around the world:
Each of the large "pods" at this glampsite in Switzerland features a king-size bed, a wood-burning stove, a private bathroom and shower, and a terrace that overlooks the Alps. You'll also have access to a delicious restaurant nearby, spa treatments, and a community area known as the "Pod-house," where you can watch a movie or play a game. If you make it outdoors, your options include hiking or mountain biking during the summer, and skiing in the winter.
Out in the foothills of the Atlas Mountains in Morocco lies a massive glampsite unlike any other. Each of the 27 tents and suites are uniquely decorated with antiques from all over the world, and include a king-size bed, a large bath, and a private deck—not to mention the five tents that have a private Jacuzzi. When you're not dining on homegrown veggies at the Kanoun Restaurant, you can feel free to play tennis, take a swim in the outdoor infinity pool, or head to the gym.
Considering that the luxury tents at this glampsite are more like guest lodges, it's unlikely that you'd regret glamping out in Australia. Each of the 15 tents includes huge beds, comfy bathrobes, private bathrooms, iPads, as well as access to a spa, pool, and a gourmet restaurant. Since the site is located near the national park, Uluru-Kata Tjuta, you can enjoy a guided tour around the Australian Outback, among other activities.
Photo by NewlySwissed.com.