Last weekend the Arctic sea ice shelf was measured at 4.09 million square kilometres, the smallest area since 1979 when measurement began. And with the ice still melting at an unprecedented rate of more than 100,000 sq km a day (so much that I checked 3 different sources to make sure it was correct!) it is clearly showing the dramatic impact that man-made global warming is having on the polar region. 
Many articles have been published about this in recent days but the interview in The Guardian  with Julienne Stroeve, a scientist at the US National Snow and Ice Data Centre (NSIDC) in Boulder, Colorado, made me realise just how pressing the problem is. She told The Guardian:
The whole energy balance of the Arctic is changing. There's more heat up there. There's been a change of climate and we are losing more seasonal ice. The rate of ice loss is faster than the models can capture [but] we can expect the Arctic to be ice-free in summer by 2050. Only 15 years ago I didn't expect to see such dramatic changes – no one did. The ice-free season is far longer now. Twenty years ago it was about a month. Now it's three months.
In the coming weeks I will post more about this major issue.
In case you need a picture to be convinced that is time to fight the climate change, here  you go: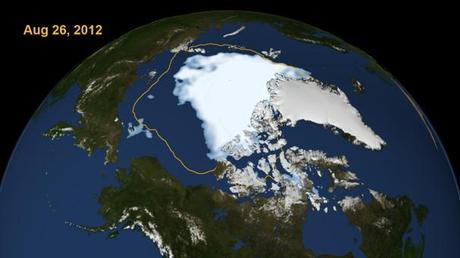 NASA Goddard Space Flight Center - This visualization shows the extent of Arctic sea ice on Aug. 26, the day the ice dipped to its smallest extent recorded in more than three decades of satellite measurements. The line on the image shows the average minimum extent from 1979 to 2010. Every summer, the ice cap melts down to what scientists call its "minimum" before colder weather builds the ice back up.
More information:
The Guardian,  Arctic sea ice levels to reach record low within days
National Snow & Ice Data Centre
Washington Post, Arctic sea ice hits record low, scientists say