As we become more aware of environmental changes impacting our planet, we're adopting more sustainable practices in everyday life. Americans use 40% less natural gas in their homes than 40 years ago. As we learn more about sustainability, this is translating into more than just energy use.
Eco-conscious company Global Transfiguration is introducing a collection of sustainable prints to allow you to wear your environmentally beating heart on your sleeve. In partnership with The Climate Reality Project, Global Transfiguration artist and founder Stephon Stewart hopes that his new line of prints will inspire change in everyday life, from the 33% of renters who move each year to the toddler just starting to learn about how the world works.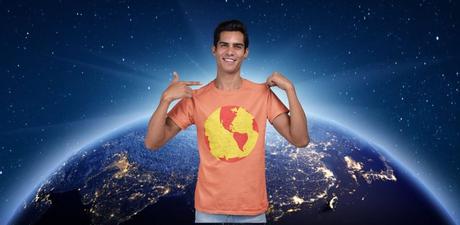 "Earth is our only home," Stewart explains. "This is our opportunity to change the course of history for future generations on our planet."
His oil paintings have hit a chord with people both young and old. Featuring 16 versions of the earth in various forms, each one represents a possible future we might experience.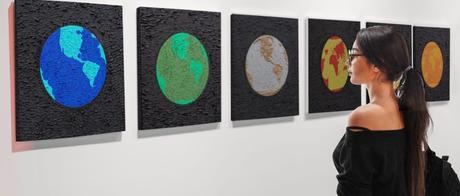 For example, the fiery "Inferno" showcases a red earth meant to be viewed through an infrared radiation telescope. In this version of a future earth, carbon dioxide has done its worst, getting trapped inside the atmosphere to warm the planet to obscene temperatures. But the greenhouse effect isn't the only thing we have to worry about.

Another, titled "Dry," shows the earth as a potential barren wasteland. Now that the United States has hit a high of creating 4.3 trillion documents each year, this is a scary - but very real - possibility. But Stewart's prints aren't all terrifying. "Wet" is meant to pay tribute to the water that sustains the planet while "Gaia" honors the greenery of earth and the harmony between humans and nature.
Best of all? Part of the proceeds goes toward a monthly donation directly to The Climate Reality Project.
So far, the Global Transfiguration campaign has 16 eco-friendly T-shirts available, eight different totes, and a fleece hoodie. On the shirts, the globe rests right on the wearer's chest, an emblem akin to the logo of a superhero doing their part to save the planet.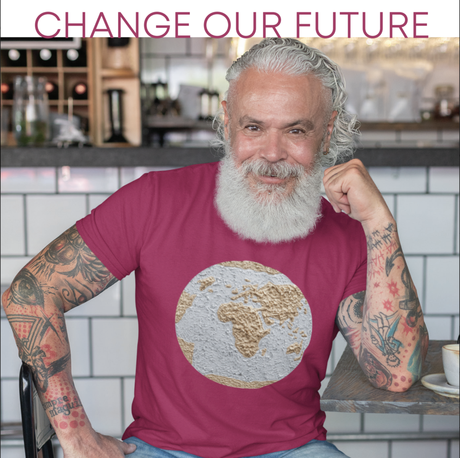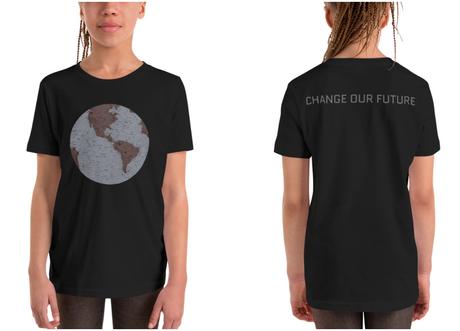 "Everyday citizens can wear the shirts and feel like superheroes," Stewart continues. "Maybe one can grow up to be the next Albert Einstein and create a new energy source."
As such, the shirts are available in men's, women's, children's, and even toddler's sizes. In the fight to save the planet for the next generation, Stewart and Global Transfiguration hope that everyone will partake in the project and "Wear the change."