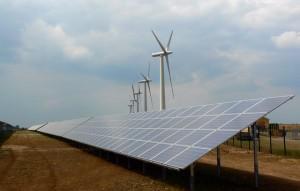 Despite a somewhat sluggish global economy, renewable energy investments reached an all-time high in 2011. A report titled "Global Trends in Renewable Energy Investment 2012" released by the Frankfurt School – UNEP Collaborating Centre for Climate Change & Sustainable Energy Finance takes a detailed look at the state of renewable energy.
According to the report's Foreword, "in 2011, global investment in the renewable energy sector hit another record, up 17% to $257 billion. This was a six fold increase on the 2004 figure and 93% higher than the total in 2007, the year before the world financial crisis." The lower percentage increase as compared to the 2009-2010 time frame (37% increase) was attributed to the rapid decrease in costs during that period.
The report's Executive Summary contains a page and a half synopsis. Here are some of the highlights:
In 2011, wind was out-stripped by solar, which attracted nearly twice as much investment – the first time a gap of anything like this magnitude has opened up for solar over wind.
Total investment in solar power jumped 52% to $147 billion.
Total investment in wind power slipped 12% to $84 billion, impacted by lower turbine prices, policy uncertainty in Europe and a slowdown in China's previously hectic growth in wind installations.
Solar energy's rise was attributed to rooftop installations in several countries, as well as the rise of large scale projects like the concentrated solar projects in California. The resurgence in American investment was credited for a large portion of the global increase. However, the report cautioned that the increase may be a temporary one given the expiration of several incentives in the US. Furthermore, the report cites congressional stalemates and the coming end of another tax credit that supports the wind power industry as other potential roadblocks to further renewable energy projects.
In the previous years, China had taken a significant lead in renewable energy investment. 2011 marked a comeback for the US in its competition with China to be the largest investor in renewables. When accounting for smart-grid and energy efficiency, the US tops China in terms of total investment, but using renewables alone as a measure results in China's top ranking. Germany, which came in third in terms of investment, fell off the proverbial leader-board in 2011 after reaching a high of $31 billion in 2010.
[Image source]