If you saw that the title had the words glitter AND wine in it and you weren't intrigued,
we might have a bit of a problem...just saying ;)
I made a few glitter-stemed wine glasses to give as Christmas gifts,
and they were a huge hit when I posted a picture of them on Instagram.
So I figured I'd share a little DIY tutorial with y'all today!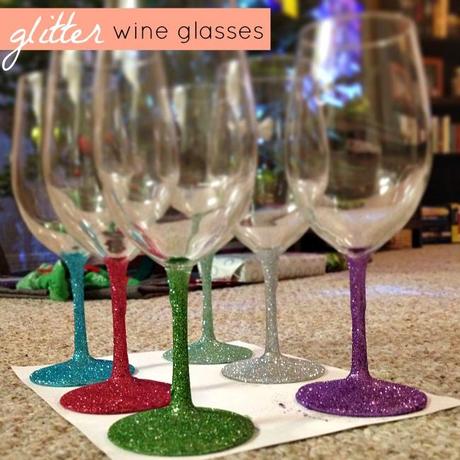 I searched Pinterest for the best way to do this project
and nothing was working for me. So I combined a bunch of ideas
that I read about and came up with this method.
What You'll Need:

- Wine glasses (Apparently you can get these super cheap at the Dollar Store.
  Mine are from Target and cost about $20 for a pack of 4)
- Glitter...and lots of it! (I used Martha Stewart glitter, because I'm obsessed
  with the colors her line offers. I bought the variety pack...LOVE)
- Mod Podge (I went with the super gloss finish for this project)
- Krylon clear gloss acrylic coating spray
- Foam Pouncer (I used Martha Stewart's brand)
What You'll Do:

- Start off by washing the glass and drying it throughly.
  Make sure it is completely dry before you move on to the next step.
- Coat a layer of Mod Podge on the areas of the glass that you want glittered
  using foam pouncer. I tried to keep the layer thin enough so that it wasn't runny,
  but thick enough that every area on the stem was coated.
- Sprinkle glitter on the areas of the glass that have Mod Podge.
  Let sit for about a minute then shake off excess glitter.
- Let glass sit for 30 minutes.
- Spray glittered part of glasses with Krylon spray.
  This helps keep the glitter on the glass rather than all over your kitchen ;)
- Let sit for 2 hours then spray a second coat of Krylon spray.
- Once Krylon spray has dried, hand wash the bowl of the glass.
Pour yourself a nice glass of wine and enjoy!
Seriously SUCH an easy project. And the product is super fun!
I wouldn't recommend putting them in the dishwasher, but hand washing them instead.
These are great to give as gifts or use for a bachelorette party! Or for anything else.
Because honestly, is there really such a thing as too much glitter?


lovelylittlethingsblog.com