They're not exactly worshipping the tree, but the Basking Ridge Presbyterian Church is holding a memorial service for the old oak tree. I've written about the Basking Ridge oak before. I learned about it only in January, and I visited it this summer. Some say it's the oldest tree in the state, while others make that claim for the Great Swamp oak, which isn't too far away. The climate change we've introduced, as well as natural aging, appear to have doomed the tree. It had leaves this summer, but not in the profusion that signals health to botanists. The decision has been made to take the tree down before any massive branches fall and cause injury or damage. In the light of these sad developments, holding a service seems perfectly natural. The tree is older than the church over which it presides, after all. It's even older than John Calvin who started the Presbyterian tradition.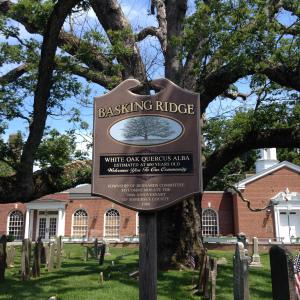 My first book was on Asherah, the goddess often associated with trees by scholars. As those who've read my book will know, I'm a bit skeptical, on the basis of the actual evidence, that Asherah was a "tree goddess," but it is also clear that trees are ancient objects of veneration. From the human perspective, they can live a very long time. There is a bristlecone pine in this country that dates back to before Noah's flood (something the creationists conveniently ignore). With that much life-force, which, we're told, is really a fiction, these trees deserve special respect. After all, they were in the neighborhood long before we got here. Still, the Basking Ridge oak has been artificially preserved before. It's been on life support for years. Concrete was poured to support the massive trunk, and many ponderous branches are shored up by support rods. We respect our elders.
Maybe it's not tree worship. Maybe it's worship beside a tree instead of worship of a tree. Prepositions can make all of the difference. Nevertheless, it's an occasion to stop and consider our place on the planet. The fear many of us feel regarding this week's election is a mere second in arboreal memory. The independence of this country came after the oak had been here centuries already. It may not be tree worship, but we should respect the memories of such a tree. A country young and optimistic rather than old and jaded. Maybe this tree knows a secret that it's willing to bequeath to those of us whose lives are but a few leafing seasons in length. Good-bye, Basking Ridge Oak. It was a pleasure to meet you.