A friend sent me a news story that really spoke to me.A bookstore in England, forced to move because of rent, asked for volunteers to help move their stock to a new storefront.The response?They had to start turning people away after 250.A human chain was formed to pass books down by hand to their new home.Book people, it seems to me, are like that.I spent a recent weekend looking at downtown Easton—one of the triplet cities that make up "the Valley" (Allentown and Bethlehem being the other two).Surprisingly, I found two used book stores within blocks of each other.The proprietors (especially of the first) were friendly and helpful.They were book people.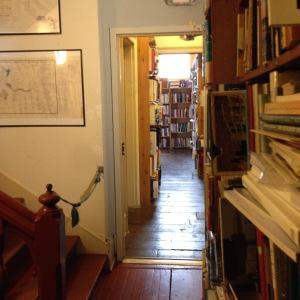 I mentioned to said first proprietor that two of the books I was buying were to replace copies ruined during our move.The look of alarm and sympathy on her face was genuine.Book people know that look.They can feel each other's pain.They will freely give of their time to hold knowledge in their hands, if only briefly, to pass it along to others.Now, like most bookish people, I'm aware that I'm considered odd by the average guy who enjoys sports, mechanical stuff, and money.I'm content with a book, either reading or writing, and the occasional foray out among the more active and boisterous.I like to think that if I lived in Southampton I'd have given up a vacation day to help out.Saving books is saving civilization.
Book people know there's more to life than themselves.Ironically, such readers are often quiet and sometimes thought to be stuck up.If you go to help move books by hand, I suspect that gives the lie to feeling above other people.Reading is thought of as a passive activity, but it makes the mind more active.There's a reason our species have large brains.It's not that all books are for everyone—I've had plenty of disappointments in my reading life—but the unread book is full of potential energy.And often that already read rewards us when we turn back to it.Books, you see, are the ultimate givers.Those who sell them may make a profit, but the return on investment tends to be quite high for the buyer.If you have to move and you hire a moving company chances are they'll complain about your books.You're better off asking book people for an unstinting hand.