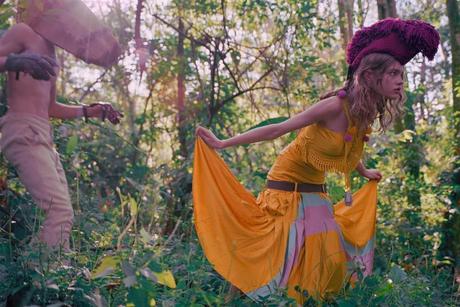 I've been holding onto this image of Natalia Vodianova for over a year because I've been trying to source the designer of the frock she is wearing. The editorial, "Fable Attraction" was photographed by Carter Smith for W magazine's May 2002 issue. Nevertheless, I've decided to post it anyway, without a shout-out to the designer.  At least I can give the photographer credit, which is probably more important, but it doesn't relate to the whole frock Friday theme I'm going for…
Click on the image to see the entire editorial, it's divine!
I've been working hard on part 1 of my final yoga exam. It's open book, which I thank the gods for because there is soooo much to know, it would be impossible to remember it in a sit-down written exam. I've got to practice learning all the sanskrit names of the poses too because we get tested on that at some point, and I think we have to write an 8-week beginner's course too. All this and more before the end of October! OMG! It's lucky I've got yoga to keep me sane, right?

Have a wonderful weekend, wherever you are xo
Title: Fable Attraction
Magazine: W May 2002
Model: Natalia Vodianova
Photographer: Carter Smith