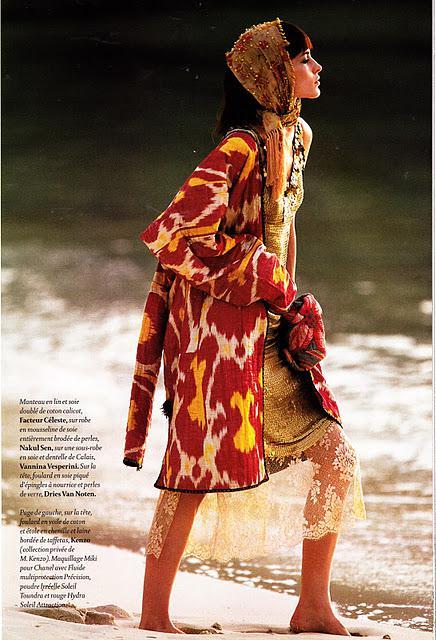 A scene from "Jungle Fever" editorial photographed by Hans Feurer and styled by Francoise Ha Van as seen in Paris Vogue June/July 2003.
Facteur Cèleste coat in flax and silk double cotton calico, Nakul Sen muslin dress of silk embroidered with pearls, underneath is a Vannina Vesperini dress of silk and lace from Calais, and worn over the hair is a Dries Van Noten silk scarf featuring glass beads.
It was the colourful coat that initially caught my eye, but after looking closer, the detail of this outfit is mesmerising. 
This is why I love layering so much!  Beautifully put together layers of varying texture which are simple and elegant and so well defined by stylist Francoise Ha Van.
Have a great weekend.
Heidi
Source: image scanned from my own copy of Paris Vogue, June/July 2003.