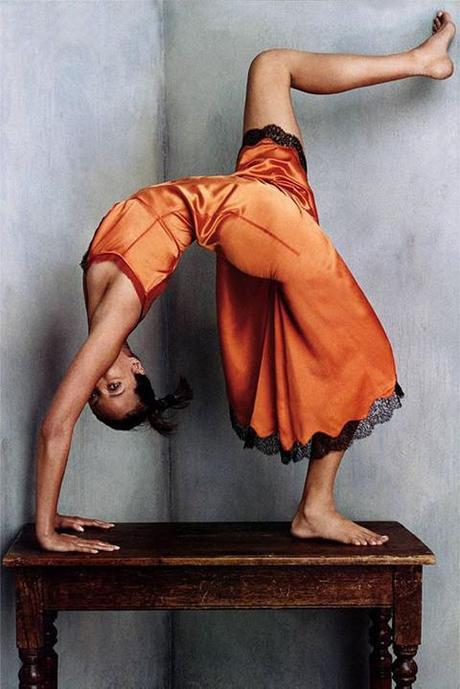 Christy Turlington wears an orange satin crepe Prada slip frock while practicing Eka Pada Urdhva Dhanurasana also known as one-legged Chakrasana or Wheel pose. This intense yoga backbend stretches the whole body. This particular variation has an additional challenge by including a balance to the pose. You have to have strong thigh muscles and shoulders to practice this pose. I've been recovering from a trapped nerve recently so this pose is one I've not practiced lately. I love this entire editorial, photographer Steven Klein is a genius, but I guess it helps when your subject is Christy! This editorial is from American Vogue, October 2002.
Christy on yoga: "Yoga is about compassion and generosity towards others. It means being mindful of the world around us."
I can't believe that I'm halfway through yoga teacher training. I've so much work to do over our break, so it's not really going to be a break at all! I'm teaching Sky Warrior next week, very excited! Lots of talking in this one, lots of alignment cues to remember. I must remember to take it slow and to breathe!
Have a wonderful weekend, wherever you are.
love & light xo