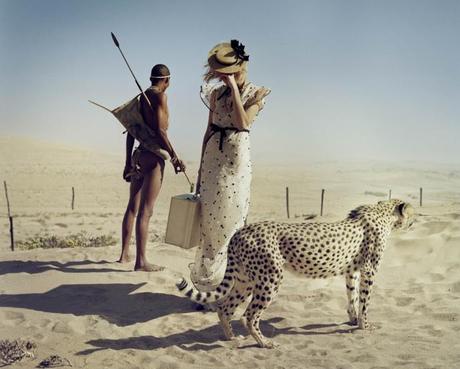 Couture in the desert. Agyness Deyn (in what I think is Chanel), with Kiki the Cheetah in the Namibian desert. Cheetah's are my favorite of all the big cats. This image is an outtake from an editorial photographed by Tim Walker in Kolmanskop, Namibia, Africa 2011 for British Vogue. Tim Walker is definitely a favorite photographer of mine because his images take you to another time and place. There is beauty in every pixel. That's why I chose this particular shot. No one is looking into the lens, and yet it still captures the attention and the imagination.
Yoga teacher training has been full-on, we go on a mid-year break soon but we have one more student teaching assignment to do first. I'll be teaching sun salutations with Virabhadrasana I, also known as Sky Warrior. I have trouble with this particular pose, it's way down on my list of poses I like to practice, for some reason my body just struggles with this pose. So of course, I have to learn to teach it, don't I?
Hope you have a wonderful weekend, we are off to see X-Men Days of Future Past this weekend and I can't wait! It's been too long since I've been to the movies, I need some escapism!
love & light xo