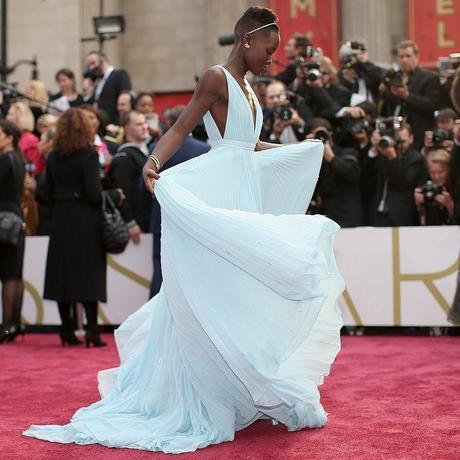 "When I look down at this golden statue, may it remind me and every little child that no matter where you're from your dreams are valid." Lupita Nyong'o will forever be remembered for these words from her acceptance speech after winning the Oscar for Actress in a Supporting Role earlier this week.
I saw this picture of Lupita in her Prada frock and I knew this was today's Frock Friday. How could it not be, just look at her? She looks completely at ease, no hint of anticipation for the pomp and ceremony ahead of her. I read that Lupita chose this ice blue Prada frock because the blue reminds her of home in Kenya, "I wanted a sense of home with me," she said on her way down the red carpet.
This Prada frock was definitely the stand out frock at the Oscars for me this year, I do think that the awards were toned down this year and by that I mean, there seemed to be less emphasis on what people were wearing than in previous years. There has been a fever pitch over the last few years built up by the over-importance placed on who's wearing what. While most of us are far removed from Hollywood and the whole scene to know how much an impact the winning of an Oscar truly means, the impression given by the media is your frock is just as important, which is kind of silly, right? It is of course a perfect opportunity for publicity, you may be a nobody on the red carpet but, pick the right frock and you could end up being somebody.
Last week's Frock Friday was a no-show because we went camping with the kids and it was just all too hard for me to factor blogging in with everything else! This Yoga teacher training is really kicking my butt and I've barely enough time for anything else at the moment. 
Have a wonderful weekend, wherever you are!
love & light xo