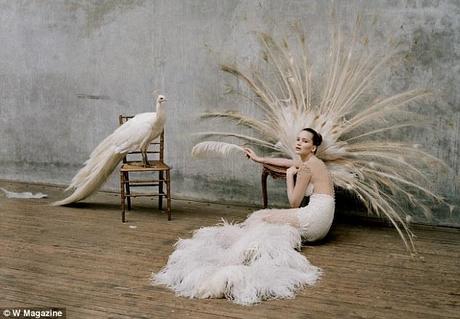 "I'm not good a walking in big dresses, as we know." – Jennifer Lawrence, everyone's favorite self-deprecating Hollywood "It Girl" looks stunning in this Prabul Gurung ostrich feather and sequin-embroidered tulle frock. I love the theatricality of this image, it is so beautiful and over the top with all those feathers, don't' you think? The image shot by Tim Walker  (I'm starting to think I may have a thing for Tim's work), is from a cover shoot for W Magazine from October 2012. To read the full interview with Jennifer in W, which is excellent reading by the way, just click through the image.
The silly season is really starting to kick into high gear now, and I still haven't made a single Christmas list. I've started talking about making a list and the possibility of going shopping next week, but nothing is yet set in stone. I just can't face the idea of all those crazy shoppers out there. Finding a parking space, dealing with tired sales people and stressed out fellow-bargain-hunters. Not a pleasant thought. My bff Kirsty and I decided today that going early to beat the crowds is now a waste of time because EVERYONE is doing same. So we think that maybe we should go as late as possible and risk the possibility of having nothing left on the shelves to buy, but at least we'll get a park! I know, I hear you saying "Shop online!" But I'm just not happy with buying all gifts online. Some gifts must be sought out in the darkest depths of a department store.

Christmas shopping must take a second place to my yoga teacher training homework and home practice, even though I've had to take it easy the past two weeks because I have injured my right arm. Which I think is a result of a combination of work and going too hard with my yoga practice. It is possible that more than doubling my usual practice has shocked my body a little bit… Sometimes I forget that I'm not as young as I used to be too, which is in itself, a bit of a shock when you hurt yourself. On the upside though, I feel so energised and my skin is clear and glowing, I'm sleeping better than I have in a long time and my anxiety and stress levels are definitely way more manageable than they have been in a long time too. Always a plus!
Have a wonderful weekend, wherever you are xo