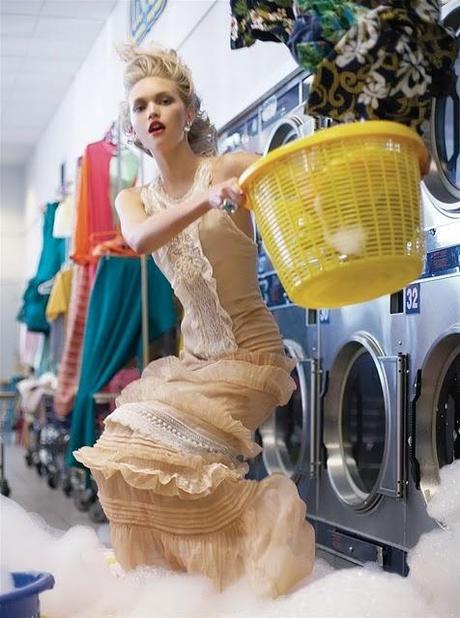 Gemma Ward in a shot from 2005 American Vogue editorial, 'Glamorama', photographed by Steven Meisel. The frock is gorgeous, but I've not been able to source the designer, so if you recognize this frock, please leave me a comment! I've always been a fan of Gemma, so I love it when I come across any editorials featuring her that I've not seen before. This one is amusing in that it has the models doing their laundry while wearing couture. I'm guessing as it's wash day, it was all they had left in their closet to wear?

It's week 3 of yoga teacher training and I have now started to really feel the pressure of time working against me! This month is jam-packed with extra dance attendance for Annabel as she rehearses for her dance school's end of year concerts, so as well as working, studying, loads of asana, meditation and pranayama practice, I'm feeling a little overwhelmed! I know it will all calm down once this new routine settles – and I am lucky because I have a husband who is more than willing to do his share (thanks, hon) so it's not that I'm doing this all on my own. But it's more than obvious now that something's definitley gotta give!
Enjoy your Friday and have a wonderful, lazy weekend if you can! I've managed to squeeze in a date night with hubby for tomorrow night, finally going to see Gravity – we're probably the last people to do so!
xo