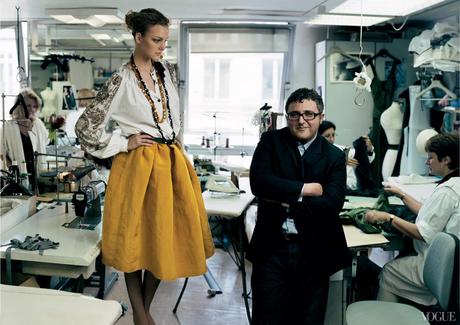 As it's Fashion Week in Paris, I thought I would post this picture of Lanvin creative director Alber Elbaz with American model Caroline Trentini. This picture from Vogue was shot by legendary photographer Annie Leibovitz in the Lanvin Atelier in Paris September 2004. It's beheind the scenes images of these incredible couture houses that I love so much. The incredible talent in the fingers of the women that work there bringing to life the imaginations of the likes of Alber Elbaz – oh to have that much creativity in even my little pinky!
I like this quote taken from an interview with Alber Elbaz conducted by 90s supermodel Stephanie Seymour for Interview magazine: "You know what it is? I love and respect women. I work mostly with women. And you know, our logo for Lanvin is a mother and a daughter. I've always said, "It's not a lion, and it's not a horse. It's a mother and a daughter." I find the logo very emotional. We really started from scratch eight years ago at Lanvin. It's the oldest couture house in the world, but when I came onboard, it was a great name without much in it. We slowly moved in. I love coffee, but I always say not everything has to be instant. We took the time. It took eight years to move from 15 accounts to 400 accounts. What's important is to maintain it as a family business. It's very much like Interview, which you don't talk about as a group—it's a family. The nature of fashion is family. You see that at almost every house—it was owned first by a family. It wasn't owned by a bank. In fact, the bankers went into fashion later . . . And look what happened to fashion!" Here! Here! Alber!
So today we're midway through the spring school holidays here and so far, so good – everyone is still alive, and with smiles on their faces! I'm feeling like rearranging furniture in the house today… which room should I start with?
Have a wonderful weekend, wherever you are!
love & light xo