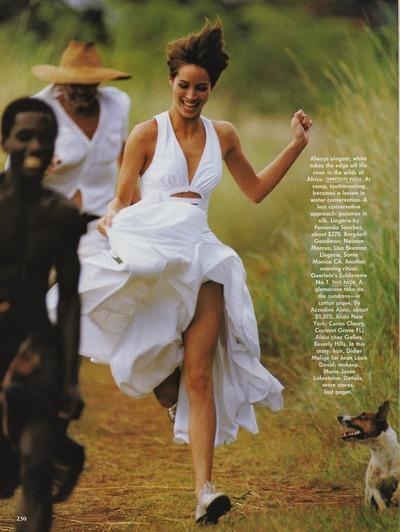 Christy Turlington having fun in this beautiful Azzedine Alaia white cotton pique sun dress shot by Hans Feurer for Vogue, May 1990.
Today will be my last post for a while. After much thought, I've decided to take a well-deserved break from the world of blogging. Five solid years of blogging has left me feeling a little starved for something different. This has not been an easy decision. It's taken me more than a month to accept that this is something I truly need to do. I don't expect it's going to be easy for me, that is, to just stop blogging. It won't be easy for me to stop seeing everything as a potential subject to write about. The hardest part is going to be letting go. I am a little scared that I'll lose my creative drive. But how will I know, if I don't give in to my instincts and give it a go?
I'm not sure what I'm going to do, but that's the fun part! I may post on my Facebook page from time-to-time, but I won't be posting here until further notice. My plan is to disconnect and to come back restored and with a fresh approach.
Thank you to those of you who are regular readers of my blog and a very big thank you also to those of you who've taken the time to leave comments on posts. I'll always be grateful.
love & light,
Heidi xx
Leave a reply!